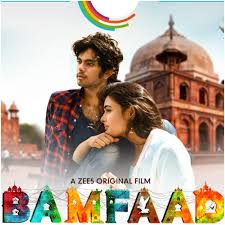 With Zee5's next original film Bamfaad, ace veteran actor Paresh Rawal's son makes his grand debut into Bollywood. The film is all set to release as a Zee5 original film. The movie is directed by debutant filmmaker Ranjan Chandel. Bamfaad also marks the debut of Arjun Reddy fame Shalini Pandey. Pandey is all set to embark on a new journey with Bamfaad and even has a film lined up with Ranveer Singh for later this year.
The setting of the film is in rustic Allahabad against a romantic volatile backdrop which will highlight an unusual yet raw and edgy love story. The director felt that releasing the film of a digital platform like Zee5 would give it the credit it truly deserves.
Also taking into consideration the current scenario it is only wise to release a film on an OTT platform since theatres are closed and there is no further notice as to when normalcy will be attained. Bamfaad is produced by JAR Pictures and Shaika Films. The film will release on April 10th 2020 on Zee5.

Bamfaad Trailer

The trailer begins with highlighting the chemistry shared between Shalini's character Neelam and Aditya's Nasir while a soothing soundtrack is heard in the background. The intensity and depth of Neelam fused with the assertiveness of Nasir adds fuel to the film. The two unfortunately find themselves in a brawl with Jigar, the antagonist when the situation turns volatile thus testing their love. Bamfaad is set in a romantic volatile backdrop which showcases an unusual yet raw and edgy love story.


Bamfaad Plot

Bamfaad is based in Allahabad. The story of Neelam and Nasir takes you across a series of incidents that portray volatile love and raw energy between the two characters which will keep you wanting for more. Bamfaad is directed by debutant director Ranjan Chandel and is presented by Anurag Kashyap. The film has been penned down by Hanzalah Sahid. The film is set in Allahabad and takes the audience on a journey of two lovers, the street tough Nasir Jamal and Neelam.
The antagonist here is Vijay Varma. He plays a local influential man who has tons of political support. He attempts to separate the lovers but each time is met with rebellion. Another pivotal character is Zahid, Nasir's friend which is played by Jatin Sarna. Nasir is proud of who is he and moreover proud of the love that he possesses. He doesn't take a step back when things get tough rather jumps right in to face the situation.
Neelam is a brilliant addition to him as she is just as assertive as he is. Two strong willed characters come together to fight the forces of evil within society.



Bamfaad Cast

Bamfaad is a script that is truly heartfelt and to be brought to life onscreen is a craft on its own. The debutantes director Ranjan Chandel had earlier expressed what he felt about the film that will feature two debutants, Aditya Rawal as Nasir Jamal and Shalini Pandey as Neelam. The director said that Aditya and Shalini fit the bill for the characters which the makers have envisioned.
There were many experienced actors who were reached out to for these roles but the raw energy that Aditya and Shalini bring with them make them more apt for the roles. Their refreshing chemistry is something to keep a lookout for. Apart from Aditya and Shalini, the film also stars Jatin Sama and Vijay Varma.
Shalini felt that Neelam was a bold and courageous 24 year old but it was actually the vulnerability of the character that drove her towards the role. She wishes that she is able to get projects that constantly challenge her which will make her learn alot in the process.

How to watch Bamfaad?

Bamfaad is a Zee5 original film which will be available on Zee5 only. To watch Bamfaad you have to be a subscribed member of Zee5. Bamfaad will be streaming from April 10th 2020. To watch the film follow the next few steps.
Download the Zee5 app through Appstore of Playstore
Login to your account or subscribe to Zee5
Search for Bamfaad which will be streaming from 10th April 2020 onwards

Bamfaad Film leaked online by Tamil rockers?

Although technology brought along with it bucket loads of advantages there are a few issues that surpass the goodness. Every makers strives hard to create content that is unique and can entertain the audience. It is a huge blow when piracy overshadows the hardwork put into the content creation process.
In this case, Bamfaad was meant to mark the debut of not only Aditya Rawal and Shalini Pandey but also the director Ranjan Chandel. The release of Bamfaad on Tamilrockers, the nations leading torrent site for series, movies and shows leaked the full movie prior to its release. Tamilrockers allows free download and streaming of shows.

Modern day web series and online streaming platforms depend a lot on opening week traffic as a significant source of return on investment. With the onset of Tamilrockers and other online web series streaming sites, makers and digital streaming partners face a haunting task of dealing with this situation in their hands.
Also taking into consideration the current economic status of the country, it is only through web series that the industry will be able to make money.

However, Bamfaad is a Zee5 original and marks the debut of actors who have a reputation preceding them. The show focuses on a novel idea using a regional term 'Bamfaad' to lead it. This will definitely attract a lot of people to the Zee5 app to watch the full movie online.
Another aspect that should be taken into consideration is that in such times many people have opted for subscription of OTT platforms for the sake of entertainment purposes. They will prefer to make use of the money spent rather than searching for a pirated mere 480P or 720P print version of the show.

Disclaimer: We at TheNewsCrunch condemn movie/ web series piracy and pledge for strengthening the anti-piracy laws across the globe and give due respect to the skills and talent of the actors and everyone involved in the digital entertainment industry. The Copyright Act, 1957 protects all type of music, songs, and videos, literary and artistic work. The Stop Online Piracy Act (STOP) is also one such act that restricts access to sites that host pirated content.