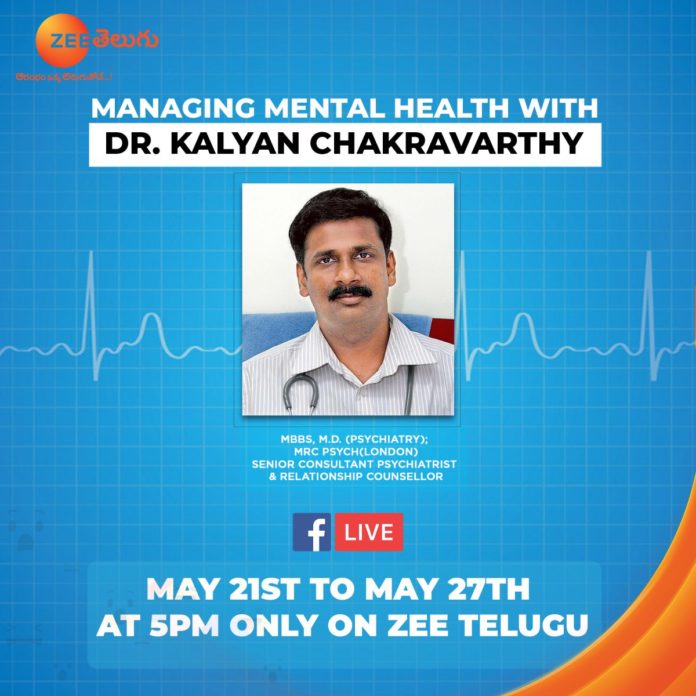 'Bathuku Jatka Bandi' fame Dr. Kalyan Chakravarthy to come on LIVE at 5 PM from 21st -27th May only on Zee Telugu Facebook.
The global COVID-19 pandemic has jolted us out of our comfort zones. Along with emphasizing building immunity and physical wellbeing, there are now increasing calls not to ignore mental health. To address some burning topics, Zee Telugu, one of the leading channels in the Telugu market, is introducing a Facebook LIVE with the renowned psychologist Dr. Kalyan Chakravarthy MBBS, M.D. (Psychiatry); MRC Psych (London), Senior Consultant Psychiatrist & Relationship Counsellor who would be part of the 7-day LIVE series from 21st May – 27th May 2021.
Dr. Kalyan, who is a household name in the hearts of Telugu viewers through Bathuku Jatka Bandi, will be discussing Managing Mental Health during the coronavirus pandemic every day at 5:00 PM starting from 21st May on Zee Telugu's Facebook page. The doctor will discuss curial topics such as anxiety – sudden news of the death of near & dear ones; Work From Home stress; if ignorance bliss or dangerous; productivity anxiety & claustrophobia (lockdown/ Fear of Missing Out, etc.); parental anxiety – with children spending their childhood in the pandemic lockdown; how to stay motivated in these tough and challenging times; and self-help therapy at home.
Login to the Zee Telugu Facebook accounts every day at 5:00 PM from May 21st to 27th.
About Zee Telugu:
Zee Telugu is the Telugu General Entertainment Channel of Zee Entertainment Enterprises Ltd (ZEEL). Launched on 18th May 2005, Zee Telugu was the first entrant from Zee bouquet to enter South India. Zee Telugu offers a variety of shows that cater to the entertainment preferences of over 75 million Telugu audiences across India every week. From fiction shows to reality shows and talk shows, the channel has multi-genre offerings and is widely accepted as the ultimate entertainment destination. Zee Telugu creates exceptional content by offering fiction shows with unique storylines, state-of-the-art non-fiction shows & events with extraordinary formats, and acquires satellite right to some of the largest Tollywood movies that appeal to viewers across age groups.
Zee Telugu is one of the top Telugu GEC channels in Andhra Pradesh and Telangana, with a balanced mix of content and programming options. Zee Telugu is well connected across all cable and digital platforms and also available on ZEE5.