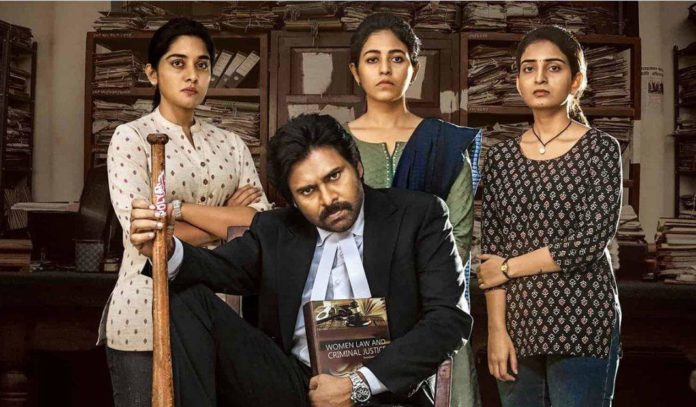 One of 2021's biggest and most critically acclaimed films, 'Vakeel Saab' gets ready for its World Television Premiere on Zee Telugu. After three long years Power Star, Pawan Kalyan returns to screens with an impressive blockbuster hit. Vakeel Saab is one such Telugu film that made it to the theaters during the pandemic due to the compelling storyline. Produced by Boney Kapoor and Dil Raju, the film features Prakash Raj, Nivetha Thomas, Anjali, and Ananya Nagalla in the lead roles. Pawan Kalyan is back on the channel's screen after 13 long years with the courtroom drama, showcased on 18th July at 6:00 PM.
Vakeel Saab is a powerful statement on the existing feudal mindset of the majority of India, where different yardsticks judge men and women. And if the man happens to be from a powerful family, then the fight for justice is even more skewed. As it happens here, Pallavi (Nivetha Thomas), Zareena (Anjali), and Divya (Ananya) are roommates in Hyderabad. One night, while coming back from a party, they are left stranded in the outskirts of the city when their cab breaks down. Pallavi's childhood friend, who is on his way to the resort, and his friends, give them a lift. However, they end up going to a resort. Moments later, Pallavi, Zareena, and Anaya run out of the resort, and Vamsi (Vamsi Krishna), an MP's son, is hospitalized with a severe injury. The rest of the film is about how the life of the three women changes after this incident and how a lawyer, Konidela Satyadev (Pawan Kalyan), comes to their rescue.
Anjali who played the role of Zareena, shared, "Vakeel Saab portrays the grim reality faced by many women in our country. I hope that this movie builds confidence in women to speak against suppression and crime despite societal pressures. With this World Television Premiere, glad more and more people will get to watch the movie in the comfort of their homes now."
The three women stand as a voice of countless women as they are seen in the predicament of emotional and physical abuses that a common girl perhaps would go through in reality. With a strong motive of voicing out the opinion with a 'No means No' slogan whether a woman is a wife, slave, or a sex-worker, if she says 'NO' to being touched, then no man has the right to force himself on her or outrage her modesty.
Save the date to witness the mass-class combo legal drama 'Vakeel Saab' directly from your homes on 18th July at 6:00 PM only on Zee Telugu and Zee Telugu HD.
To enjoy the show, subscribe to Zee Telugu, available in the Zee Prime Pack at Rs. 20 per month. To ensure you do not miss out on your favorite Zee Telugu shows, choose the Zee Prime Pack that includes Zee Telugu and Zee Cinema alongside 7 other top channels of the Zee Network that cater to the daily entertainment needs of your entire family at Rs. 20 per month only. For further information, contact your DTH or cable operator.
About Zee Telugu:
Zee Telugu is the Telugu General Entertainment Channel of Zee Entertainment Enterprises Ltd (ZEEL). Launched on 18th May 2005, Zee Telugu was the first entrant from Zee bouquet to enter South India. Zee Telugu offers a variety of shows that cater to the entertainment preferences of over 75 million Telugu audiences across India every week. From fiction shows to reality shows and talk shows, the channel has multi-genre offerings and is widely accepted as the ultimate entertainment destination. Zee Telugu creates exceptional content by offering fiction shows with unique storylines, state-of-the-art non-fiction shows & events with extraordinary formats, and acquires satellite rights to some of the largest Tollywood movies that appeal to viewers across age groups.
Zee Telugu is one of the top Telugu GEC channels in Andhra Pradesh and Telangana, with a balanced mix of content and programming options. Zee Telugu is well connected across all cable and digital platforms and also available on ZEE5.