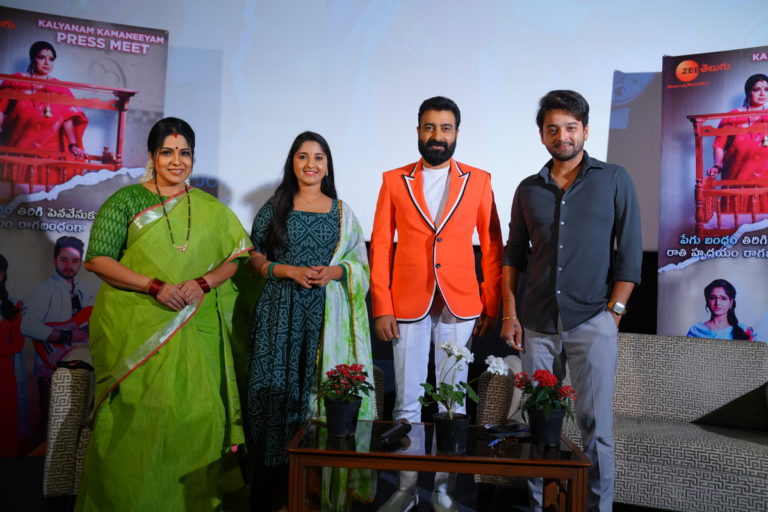 Ever since Zee Telugu announced 'Kalyanam Kamaneeyam' and the first promos came out, fans have been eagerly waiting for the show. Starring Haritha, Madhusudan and Meghana Lokesh, the family drama revolves around the journey of a mother and daughter who are separated by fate and their attempt to reconcile and start over. With an intriguing storyline and starry cast associated with the show, the channel planned an industry-first fiction show launch and preview for select media at Ramanaidu Studios, Hyderabad, on 28th January.
The cast and crew were on top of the world as Zee Telugu hosted the first fiction show press conference in Telugu Television History. On this occasion, Popular Producer Sriram said, "I feel as if I'm at a film press meet. We are also trying to elevate TV serials to a 'BIGGER' level, especially considering the vast competition we face from several mediums. I have produced 5-to 6 shows for Zee Telugu until now, and all of them turned out to be mega serials. I'm hoping the same for Kalyanam Kamaneeyam too." 
Madhusudan, who plays the role of Rockstar Viraj in Kalyanam Kamaneeyam, mentions, "I always try to do something new which excites me as well as my fans. I have always wanted to play such a character in the past, and I feel it was destiny that today I could play the role of a Rockstar in Kalyanam Kamaneeyam. It is a novel role in the Telugu TV Industry, and I am sure everyone will relate to my character."
Meghana Lokesh, who essays the character of Chaitra in the show, shares, "I'm associating with Zee Telugu for the third time and the second time with Sriram, and I am excited about it. People have seen me in various roles until now; however, this one is slightly different. In fact, I am ensuring that every nuance of this role—from my spectacles to my emotions are very different from my previous characters. I'm delighted that I'm sharing screen space with Haritha and Madhusudan. I'm learning so much for them, and I hope I can win the hearts of many through this part."  
Kalyanam Kamaneeyam features Haritha as Seetha Ratnam, Singer Mano as Govardhan, Meghana Lokesh as Chaitra and Madhusudan as Viraj. The show is set to premiere on 31st January and will air every Monday to Saturday at 7:30 pm only on Zee Telugu.