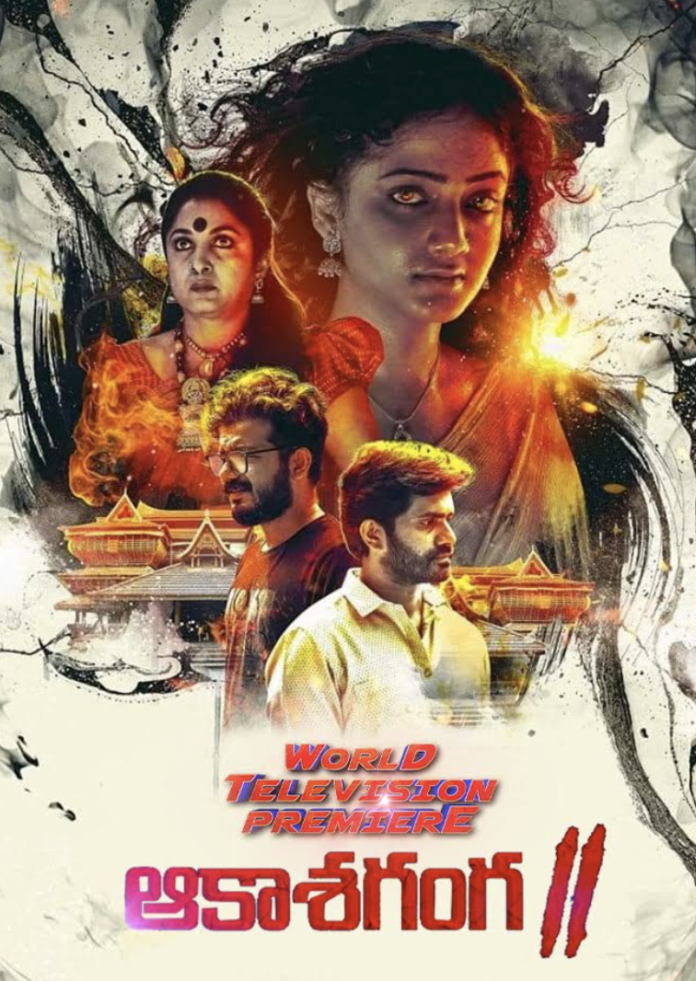 This Sunday evening will give you goosebumps as Zee Telugu, one of the leading GEC channels in Andhra & Telangana will take you through a spine-chilling journey where you will experience fear, terror, anxiety, panic and horror. The channel is hosting the World Television Premiere of 'Akasha Ganga 2' on Sunday, 19th July at 6:00 PM only on Zee Telugu and Zee Telugu HD.
Arathi Varma (Veena Nair) the current heiress of the Maanikesseri royal family and the daughter of Unni and Maya, is an MBBS student and an atheist. She doesn't believe the stories told about her family or the evil spirits that reside in her house. Soumini, played by Ramya Krishnan, daughter of Mepaddan who helped Arathi family in the past, tries to explain to Arathi about the negative energies and how she can speak to souls. Listening to this, Arathi accepts the challenge that her friends, Gopi, Titus and Jithu put forward and decides to communicate with the soul of her mother who died while conceiving her. As dark spirits untangle, she is pulled into the grim and wretched ways of Akashaganga, the evil soul that once tormented her family. Will the evil spirit once again be successful in carrying out the revenge against Arathi's family?
With a great cast, gripping story and lauded screenplay, Director Vinayan moves away from the cliché film making and creates a classy horror masterpiece.
You can run, you can hide but you cannot escape Akashaganga. Watch the mega Telugu spine-chilling premiere of 'Akashaganga 2' only on Zee Telugu and Zee Telugu HD. Experience the magic on 19th July 2020 at 6:00 PM.
As we welcome the new normal and further our entertainment proposition, we urge the audience to stay safe and continue enjoying their favorite shows at the comfort of their homes.
To enjoy the show, subscribe to Zee Telugu, available in the Zee Prime Pack at Rs. 20 per month
To ensure you do not miss out on your favorite Zee Telugu shows, choose the Zee Prime Pack that includes Zee Telugu, and Zee Cinemalu alongside 7 other top channels of the Zee Network that cater to the daily entertainment needs of your entire family at Rs. 20 per month only. For further information, contact your DTH or Cable operator.
About Zee Telugu:
Zee Telugu is the Telugu General Entertainment Channel of Zee Entertainment Enterprises Ltd (ZEEL). Launched on 18th May 2005, Zee Telugu was the first entrant from Zee bouquet to enter South India. Zee Telugu offers a variety of shows that cater to the entertainment preferences of over 75 million Telugu audiences across India every week. From fiction shows to reality shows and talk shows, the channel has multi-genre offerings and is widely accepted as the ultimate entertainment destination. Zee Telugu creates exceptional content by offering fiction shows with unique story-lines, state-of-the-art non-fiction shows & events with extraordinary formats, and acquires satellite right to some of the largest Tollywood movies that appeal to viewers across age groups.
With a balanced mix of content and programming options, Zee Telugu is one of top Telugu GEC channels in Andhra Pradesh and Telangana. Zee Telugu is well connected across all cable and digital platforms and also available on ZEE5.