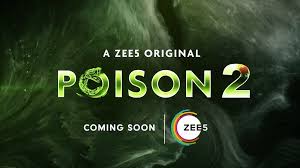 Zee 5's web series Poison received a huge amount of success and was widely accepted by the masses. Poison is a 11 episode web series that was streaming on Zee5. The first season of the revenge drama featured Arbaaz Khan, Tanuj Virmani, Freddy Daruwala, and Riya Sen in the lead roles. it marked the debut of Arbaaz Khan into the world of web series. Zee 5 announced season 2 of the Poison Web series is to be released on 30th April 2020. The main cast includes Aftab Shivdasani, Raai Lakshmi, Pooja Chopra, Vin Rana, Rahul Dev, Zain Imam, Asmita Sood, and Taher Shabbir. This time around marking the debut of Aftab Shivdasani into web series. Poison already has created a massive wave among the audience since its inception. It's ensemble cast and convoluted plot add to its elements. The logo reveal of Poison season 2 promises an equally sinister plotline.




Poison 2 First Look
https://www.youtube.com/watch?v=H28dMHBZG2E
The logo of Poison 2 was released earlier. Poison 2 marks the debut of Aftab Shivdasani into the world of web series. The show will also feature prominent names like Zain Imam and Guilty fame actor Taher Shabbir. The story revolves around Jaiveer who has everything that one would ever need- a loving family, supportive friends and a beautiful girlfriend to add to the list. But the problem with everything good is that it never lasts forever. There is always this one twist that changes everything and that is exactly what happens to Jaiveer. His life is rattled and ripped apart. Post this he is driven by revenge and makes a comeback as Aditya. His sole aim is to make everyone who disrupted his life suffer and pay for what they did wrong.
Poison 2 Cast
While Poison 1 had an interesting ensemble marking the digital debut of Arbaaz Khan. This time around till brings Aftab Shivdasani into this fresh new world. The series has a lot of grey characters for which the actors need to play multiple shades which need to be brought out perfectly. The cast this time around includes Raai Lakshmi, Pooja Chopra, Rahul Dev, Zain Imam, Asmita Sood and fresh from the success of Guilty, Taher Shabbir.
Poison 1 Plot
The previous season of Poison saw Ranveer ( Tanuj Virwani) coming out of prison for a crime he was falsely imprisoned for. He seeks revenge and for that he travels to Goa. Vikram ( Freddy Daruwala) is a DSP who aspires to become a police commissioner. He is on the hunt for Antonio Verghese ( Arbaaz Khan ). Antonio is a don whose head operations occur from Goa. The story deals with what happens when the lives of these three men entwine with one another.
Poison 1 Review
The first season of Poison received mixed reviews. While some praised the darkness and well entwined characters others had a contrasting opinion. Zee5 has a series of much touted Originals and Poison was one of them. The web series has eleven episodes which takes its premise from the iconic Hollywood flick, Cape Fear. The story comes under the genre of revenge thriller. Herein the protagonist is falsely incarcerated and imprisoned for the rape and murder of a minor girl. He goes on a rampage post his release and wants to extract cold blooded revenge from those who wronged him. The protagonist has shades of grey which is usually reserved for the antagonists. Some say they took the characters a bit too far which made them unrealistic.
How to Watch Poison 2
Poison 2 is a Zee 5 Original series that is solely shown on the Zee 5 app. The next season will be released on 30th April 2020. To watch the second season of Poison 2 follow the next few steps:
Download the Zee5 App
Login into your Account
Watch Poison Season 2 which will release on 30th April 2020