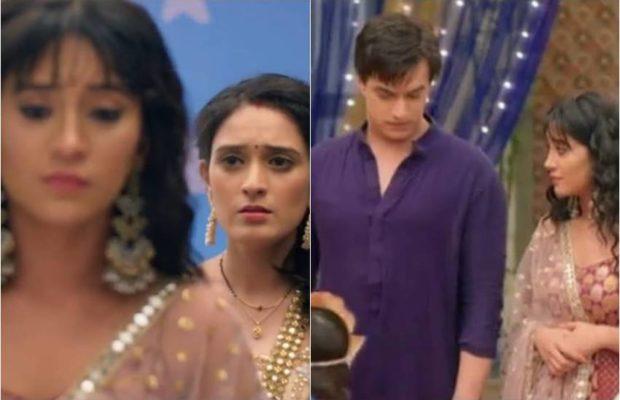 The show Yeh Rishta Kya Kehlata Hai has got a very interesting twist in the upcoming week. Karthik is in worrisome state in spite of  whether he stays with his new wife (Vedika) or with Naira and Kairava. Karthik wholeheartedly wants Kairav ​​and Naira. In such a situation, Vedika has become insecure by seeing Karthik's inclination towards Naira and Kairava. Vedika will take up desperate measures to separate Karthik from Naira.




Yeh Rishta Kya Kehlata Hai September 23 Upcoming Twist
In the upcoming episode on September 23, it will be shown that Vedika will finally ask Naira to leave from Goenka House. There will be many things between Vedika and Naira, both will say a lot to each other. Meanwhile, Vedika will also ask Naira to divorce Karthik. Hearing this, Naira will be shocked and silent.
Naira, while handling herself, will put the same thing in front of the family and say that both Kairav and her will leave this house. But Karthik will not listen and he will say, 'I will not let my son go like this. He has come back to me after a lot of hardships. "Naira will also say that she cannot live without her child nor with Karthik under the same roof.
Yeh Rishta Kya Kehlata Hai September 23 Spoilers
The story of YRKKH will take a new turn in the coming episodes and Naira Karthik's marriage will once again go to court. It is shocking for fans of YRKKH but both will be seen going to court for divorce. Both Karthik and Naira don't want to but they have to do this for Vedika. Naira and Karthik were getting closer to each other for some reason. This excited the audience to a great extent. There were also rumors about Naira's wedding plans with Karthik. However, the makers of Yeh Rishta Kya Kehlata Hai will be bringing in unexpected twists.
https://www.instagram.com/p/B2vIvTNBVdz/
https://www.instagram.com/p/B2vI4M8BJWm/
Vedika was suffering a lot seeing Naira's increased closeness with Karthik. In such a situation, Vedika, will take a step to dissolve Naira and Karthik's relationship once and for all. When Naira falls silent, this same Vedika will dominate Kartik Naira's relationship.