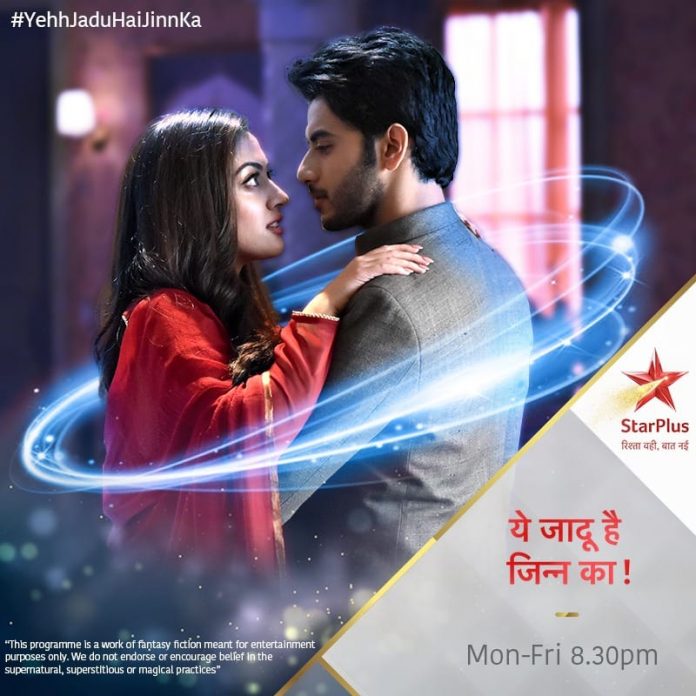 Roshni questions Aman don't you trust me; Aman says how can I trust you when you don't have any proof? Salma says trust her blindly without any proof just like she trusted you. She further adds she is Ayana she cannot lie to save herself; how can you think she will lie to trap others? Accusing Aman that he has learned how to love but he has not learned to stay true to that love.
Baazigar comes there, Aman asks him if he knows where the baby is? On confirmation Aman, Roshni and Alia follow him. Parveen is seen carrying the baby somewhere. Aman and Roshni are stunned as they are led to the 'Kala jungle.' Alia asks what is this place? Aman answers that this a Kala jungle and only a Jinn can enter this place. She says it is not time for jokes. Aman tells Roshni that the baby is in real danger not from a human but a jinn.
Alia thinks to herself she had lied about the baby being in danger, how did it turn out to be true. She sends the snake to look for the baby. Aman tells her o go and sit in the car, she argues that it's her baby and she will accompany them. He agrees but asks her to stay with him all the time.
Praveen carries the baby to Jinn's river and presents the baby as a sacrifice to get her sifriti powers back. A wicker basket appears and she places the baby in the basket. All the while the snake keeps a watch on her and relays the information to Alia. She stops Aman from going in another direction and points in the right direction. Aman tells her they have been in the forest before and know their way. Alia tells them that its mother's instincts and she even heard the baby's cries.
Roshni says its not just any forest it's a Kala jungle, which is full of illusions and danger. She further adds she will use her clips to guide them. Aman stops her from saying anything further telling she already has said enough. Roshni questions why would he put Alia's life in danger as he has already made a mistake by entering the forest alone. Why does he want to repeat his mistake? Aman tells her that he will protect Alia and asks her to go and wait in the car.
Aman and Alia follow a path and are obstructed by a tree. Roshni thinks why is Aman being so obtuse she will do the sensible thing and save the baby. She uses the clips to guide her path. Aman tells Alia that you were right the baby is this way and further adds what I am going to do next will raise many questions in your mind but I will answer them after we have found the baby. He summons Baazigar and lifts the tree out of the way.
Tabeezi goes to Junaaid manzil and asks Dadi why are they all looking so tensed. She answers that the baby has gone missing and Aman, Alia, and Roshni have gone in search of the baby. Taabezi tells them it will not be difficult for Aman and Roshni to find the baby. She asks them if they have called her? Sara says that their phones are unreachable. On questioning why? Dadi tells them that its because they are in the Kala jungle. Taabezi gets tensed hearing this and asks them if Parveen has gone too? Saima tells her that they have not told her as she is not well. Tabeezi tells Dadi that she will go and visit Parveen.
Roshni sees the child floating towards the cave and calls out to Aman and Alia. Parveen is shocked to find Roshni there and attacks her with a knife hiding behind the tree. The knife hits Roshni on the arm. Aman realizes that Roshni has found the baby and asks Alia to follow her.
Tabbezi goes to Parveen's room and is worried to find Parveen missing. She thinks that the baby is missing and so is Parveen and is worried that Parveen might sacrifice the baby for her powers just like she had done with Aman.
Aman reaches there along with Alia, Roshni points towards the baby. Aman freezes the water using his magic and Roshni lifts the baby from the basket using her magic and pushes the baby towards Aman who catches the baby. Parveen gets angry and sends some force towards the cave which starts dragging Aman along with the baby towards the entrance of the cave. Roshni tries to stop Aman but does not succeed, Alia is shocked seeing Roshni do magic and cries out for the baby.
Precap: The fairy voice in the background says Amna is not an ordinary jinn he is the Jinnat ka Baadshah and no black magic can kill him. A sword appears from the sky which destroys the cave while others look on.