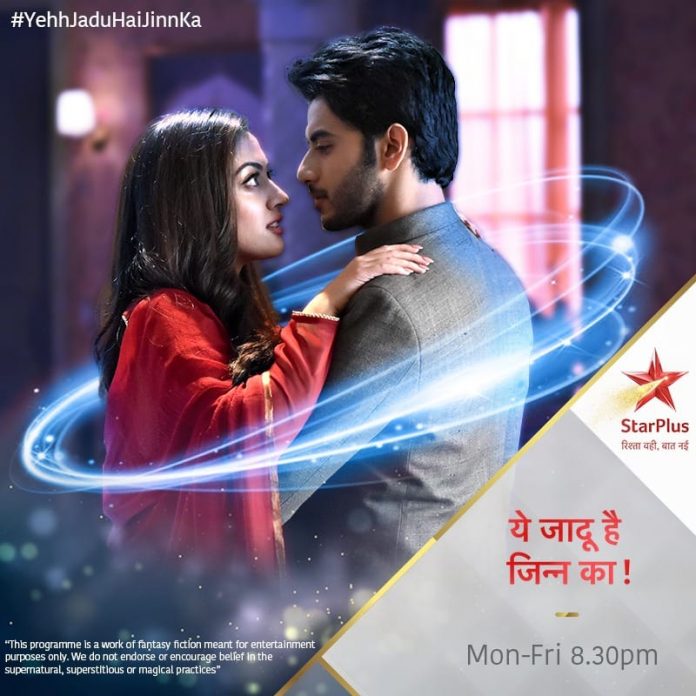 Sara and Mr. Chotu along with Roshni are seen playing with the baby. Aman watches them and Mr. Chotu leaves with the baby. Roshni tells Aman they will have babies together and in addition, they will keep Alia's child with them. She again insists that the baby is not Aman's and she will prove it not because she is jealous of Alia but because the truth needs to be out.
Aman says the truth is bitter and he apologizes for hurting her. She says there is no love without pain and coming from him the pain also seems to be wonderful. Roshni asks him to promise that he will always trust her and never let any misunderstanding get between them. Aman promises her the same. Alia who witnesses this thinks Roshni is keeping her from Aman and therefore she has to get rid of Roshni.
https://www.instagram.com/p/B78MfFOB8FZ/?utm_source=ig_web_copy_link
Aman and Roshni share a moment where he says, he wishes he could have taken the antidote, Roshni says they will find another way. They say I Love You to each other. Aman dozes off and Roshni sees a snake in her room and follows it. The snake directly looks into her eyes as a result, she gets hypnotized. Alia praises the snake and declares that now Roshni will take her own life.
Roshni starts walking towards the balcony and climbs on the threshold. Aman pulls her back. She questions Aman how did she get there? Aman says you should answer that. She responds "I saw a snake and followed it from there I don't remember anything."  Aman tells her she might have had a nightmare and sleepwalked.
Roshni then realizes that they are touching each other. They realize that they can do it without any consequences. Both are happy and share a moment.
Roshni has done all the preparations for the naming ceremony. Salma comes there and questions are what is she doing? She says she is doing the preparations. She asks Dadi if everything looks perfect?  Alia comes there and asks Roshni what is the need for all this? She says it's a special day for the baby and everything should be special.
Dadi asks Roshni if she is hiding anything from them? Whether she is not at all angry after all Aman has done? Roshni says everyone makes mistakes. Salma says Aman has betrayed you. To which Roshni says all of us have been betrayed. However, she believes Aman will not do such a thing again. She will ensure it.
Parveen comes home, everyone gathers around her. She tells Dadi she should have taken her along as her health got worse on the way. She further adds she is fine its just an infection and asks everyone to stay away from her. They tell her its baby's naming ceremony and she says she would do anything for the baby. But as of now, it's wise to keep her distance to save the baby from infection. Dadi asks Sara and Aman to take Parveen to her room.
Tabeezi finds a book 'The History of Jinns 'and hopes the book will help her find answers. From reading the book she concludes that both Aman and Kabir are Sifriti Jinn because Parveen is one. She thinks to herself she needs to find evidence for her theory. As of now, she cannot share with anyone that the person bent upon taking Aman's life is Parveen.
Aman and Sara ask Parveen to take rest. Parveen asks Sara to invite Saima for the function. After they leave, she tries to do magic but is unable to. After losing the ring she became a normal jinn. As a result of giving up Kabir's heart, she is now just a normal human being.
Roshni asks her bakery employees for some help. They say everyone has only asked them for dua. No one has ever asked for help. They would gladly do anything for her as she has done so much for them. Alia thinks to herself what does Roshni know about her? Whenever she speaks to her it's like she is challenging her. Does she know that the baby is Kabir's and she is ………? She asks her snake to keep an eye on Roshni and inform her of all her activities. In addition, they must find a way to remove Roshni from her way.
Roshni asks Baazigar to keep a lookout outside Alia's room as soon as they get an opportunity they will search her room together.
Precap: The function is taking place, the baby is missing. Parveen is seen taking the baby to someplace.
https://www.instagram.com/p/B77TshVBzve/?utm_source=ig_web_copy_link