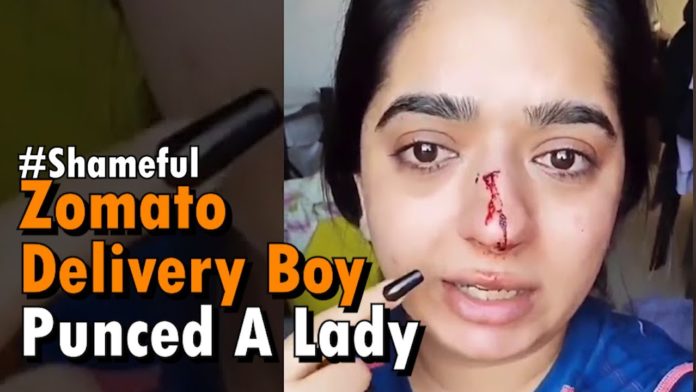 Bengaluru witnessed a bizarre incident in the afternoon of 9th of March 2021. A Zomato delivery guy hit a single woman in an apartment due to delivery issues. Hitesha Chandranee, a fashion influencer by profession ordered food through the Zomato online delivery app around 1530 hours.
However, there was a significant delay in the delivery of her order. After multiple attempts to convince the customer support to cancel her order, Hitesha Chandranee requested for a 'free delivery' compensation which was yet to be approved by the support team. However, the delivery person from Zomato arrived with the order almost an hour later after ordering.
https://twitter.com/HChandranee/status/1369486163140956160
Hitesha Chandranee kept the door partially closed and told the delivery guy to wait as she was waiting for the customer support representative's response. However, the delivery guy turned impatient and turned out to be rude. It was unclear if Hitesha Chandranee and the delivery had a heated argument. When Hitesha Chandranee attempted to close the door, the delivery guy barged in, slammed her nose, and ran away.
A panic-stricken Hitesha Chandranee was flabbergasted with the incident and she was left with a fractured nose. Hitesha Chandranee took to Instagram to share her shocking story which attracted millions of views within hours. An FIR was filed by Hitesha Chandranee and the police were cooperative according to her statement.
Hitesha Chandranee vs Zomato
Hitesha Chandranee is a beauty influencer who lived alone in her apartment. The current incident threw bad light on Zomato's functioning. It is a wake-up call for the food delivery platforms to exercise caution and perform thorough background checks on their delivery personnel.
However, in this case, the delivery person's view on the issue is awaited. Apparently, the quest for quicker delivery has put the lives of delivery guys under pressure. With Zomato's guarantees of quicker deliveries, the customer's impatience increases. With that being said, the physical violence against a woman customer cannot be just to the poor processes in place.
An official statement from Zomato is expected soon regarding the incident. Zomato is looking at an IPO soon and such incidents could be a black mark to the billion-dollar company's prospects.