In the case of the lynching of Indian Army jawan, Deepak Singh Thakur in Gurdaspur, Punjab, the accused's links with the Khalistan movement are coming to the fore. Twitter user AkkaPrasanna in one of his Twitter threads, has told about a 2018 report of Sikh politics. The news of the release of the main accused Daljit Singh alias Bobby from police custody has been mentioned. The information about Bobby's release was shared by Sikh Youth Federation Bhindranwale (SYFB) chief Ranjit Singh.
Daljit Singh alias Bobby is the main accused in the lynching of the Indian Army jawan and is absconding. However, Khalistan supporters have started saying that Bobby is innocent and has accused the army jawan of 'blasphemy.'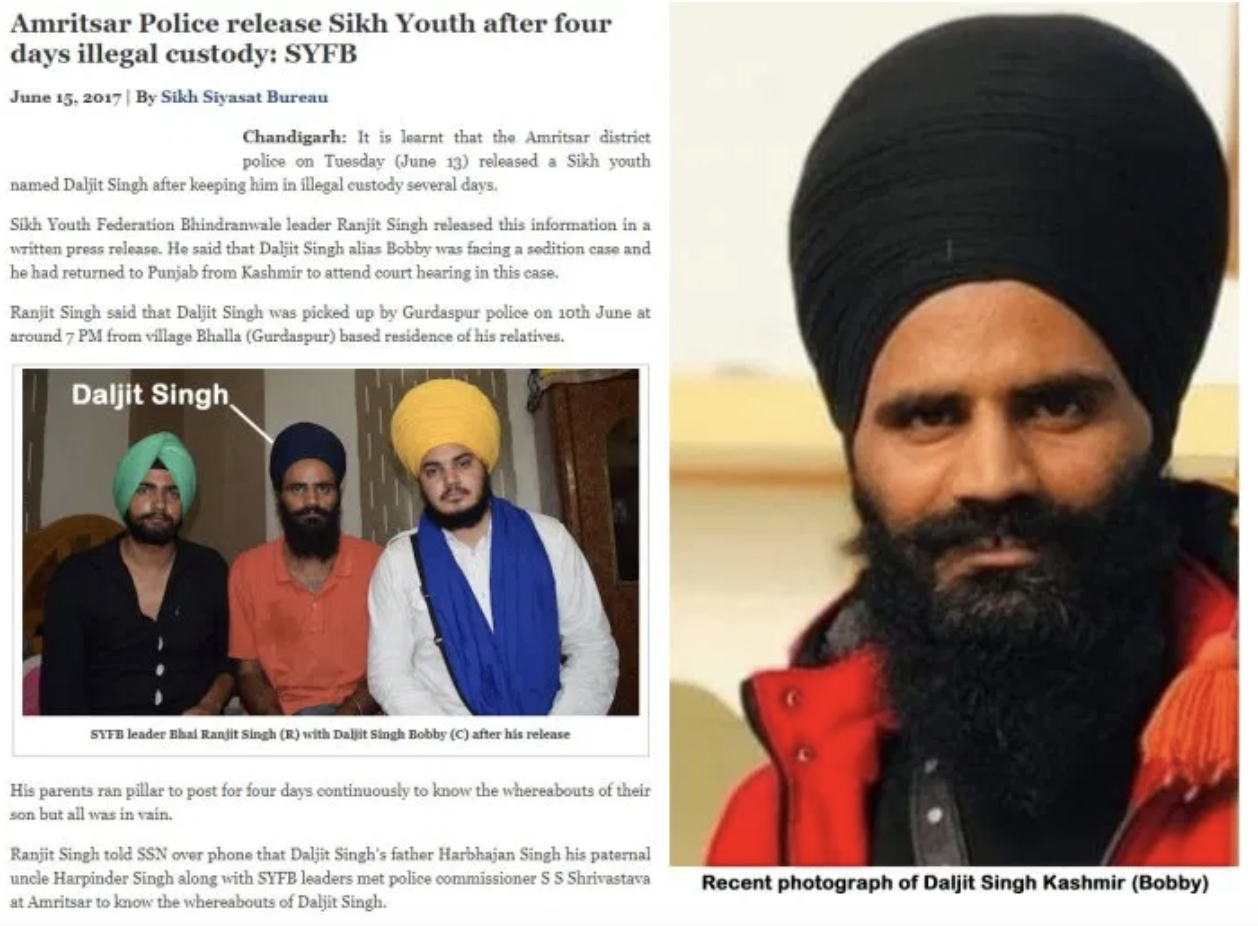 BREAKING! The K!ller of dear Deepak Thakur was a Kh@listani militant of D@mdami T@ksal arrested by Gurd@spur police earlier!@PorusofPunjab @RajSharma1857 @Saumya_miishra @vivekagnihotri @rahulroushan @UnSubtleDesi #JusticeForDeepakThakur pic.twitter.com/Uy8GoUg7FV

— Prasanna-Akka (@AkkaPrasanna) July 4, 2021

Screenshot of Daljit Singh's release report (left), Source: Sikh politician Daljit Singh's recent photo (right) Source: Deep Sidhu Facebook
It is worth noting here that Ranjit Singh (Damdami Taksal) had written a book, 'Shaheed-e-Khalistan,' in which Khalistani terrorist Jarnail Singh Bhindranwale was praised. Along with the biography of other Khalistani terrorists in this book, details of some historical events related to it were given. This book was distributed by Deep Sidhu, a supporter of Khalistan, in the ongoing farmer's movement on the Delhi border. While distributing the book, in a photograph, Sidhu was seen with Ranjit Singh, holding a book.
Barjinder Singh Parwana, the member and narrator of Damdami Taksal. He had released a video in which he is justifying the lynching of Deepak Singh by saying that Deepak has done 'desecration' of the Guru Granth Sahib. When we checked Parwana's social media profile, it emerged that he had been openly supporting Bhindranwale. It can be clearly seen in the video that there is a big tattoo of Bhindranwale on his hand.
Bhindranwale's tattoo seen in Barjinder Singh Parwana's live video (Source: Facebook Video)
History of Damdami Taksal :


Guru Gobind Singh established Damdami Taksal in the 18th century. Its purpose was to spread the teachings of the Guru Granth Sahib. The first head of the Taksal was Baba Deep Singh Ji, an associate of Guru Gobind Singh Ji. Damdami is derived from the Damdama Sahib Gurdwara, where Guru Gobind Singh, the tenth Guru of the Sikhs, gave the Granth Sahib its present form. Taksal means an institution where pucca Sikhs are produced.
It is noteworthy that Jarnail Singh Bhindranwale was also a student of Damdami Taksal. He took training in the branch of the mint located in Chowk Mehta village, around the Jalandhar-Amritsar highway. He started reading texts at the age of 11 and took over Damdami Taksal in 1977 at the age of 30. Bhindranwale remained its main leader till his death in 1984. It is believed that Bhindranwale had become synonymous with separatism and violence ever since he became the head of the Taksal.