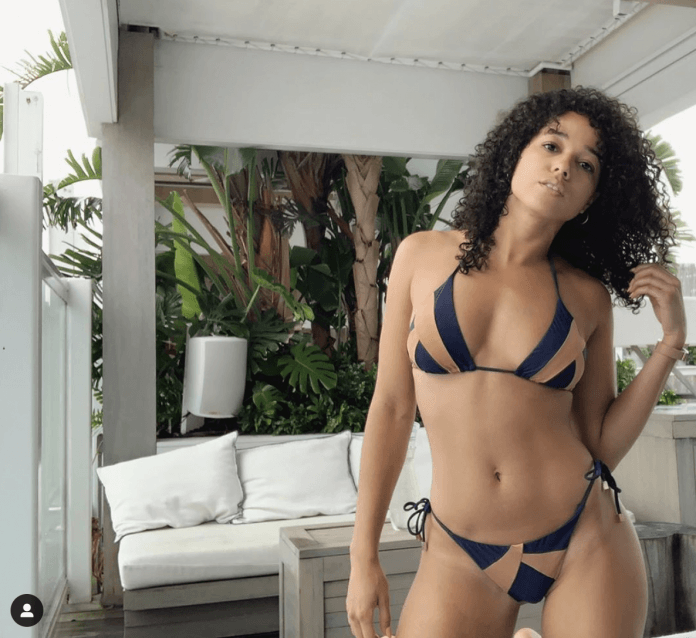 Alisha Wainwright is allegedly dating Justin Timberlake. They both were seen in a bar in New Orleans called The Absinthe House on Bourbon Street and photographed intimate and feeling cozy with each other. Also wedding ring was missing from Justin Timberlake's hand who is married to Jessica Biel. Here are some unknown facts about Justin Timberlake's girlfriend Alisha Wainwright.




Who is Alisha Wainwright?

Alisha Wainwright is an actress best known for her role in the Netflix series Raising Dion
Wainwright Was Born in Florida; Her Parents Are From Jamaica & Haiti, Respectively
Alisha Wainwright was born in year 1989 and 30 years old.
Wainwright, a Florida native, attended the University of Florida for college
She has around 640k followers on Instagram and may explode as she is found to be dating Justin Timberlake
Wainwright Got Her Acting Start on a YouTube Series in 2012
Wainwright got her start on a YouTube series called Smosh in 2012
She had plans to pursue a career as a scientist, but ended up gaining roles in sci-fi-focused television instead
Wainwright is good friends with actor Michael B. Jordan.
https://www.instagram.com/p/B3mkplGn3_4/?utm_source=ig_embed
Wainwright Loves to Box, & Often Posts Videos of Her Workouts to Instagram
https://www.instagram.com/p/BztPr_uneau/?utm_source=ig_embed
She loves to travel all over the world, often documenting it on her Instagram.
She was recently photographed behaving intimately with Justin Timberlake at a bar in New Orleans but Neither Wainwright nor Timberlake have issued statements on the newfound rumors around their relationship.
Wainwright & Timberlake Were Videotaped Holding Hands & Touching Intimately in New Orleans


Married Justin Timberlake holds hands with co-star Alisha Wainwright and she strokes his knee during boozy night out https://t.co/5DUytpoT6R

— Jasmine. (@hausofJazzy) November 23, 2019

At one stage he grabbed her hand and rested it on his knee. She then gently started stroking his leg. Then he clutched her hand with both of his and was playing with her hands
Wainwright and Timberlake are both in New Orleans to film a movie called Palmer
The film has been described as an American football drama. The IMDB summary for the movie reads, "An ex-convict strikes up a friendship with a boy from a troubled home."
Alisha Wainwright Photos and Videos

https://www.instagram.com/p/B40ADCsHQT0/
https://www.instagram.com/p/B3NdjUrnWcU/?utm_source=ig_embed
https://www.instagram.com/p/B3IdRpDHCfT/
https://www.instagram.com/p/B1NVlxjn9In/

Is Justin Timberlake Divorced?

There are no official confirmation on Justin Timberlake's divorce or separation as of now he still appears to be married to Jessica Biel but he was seen with Alisha Wainwright with no wedding ring and was found to be too intimate with her.