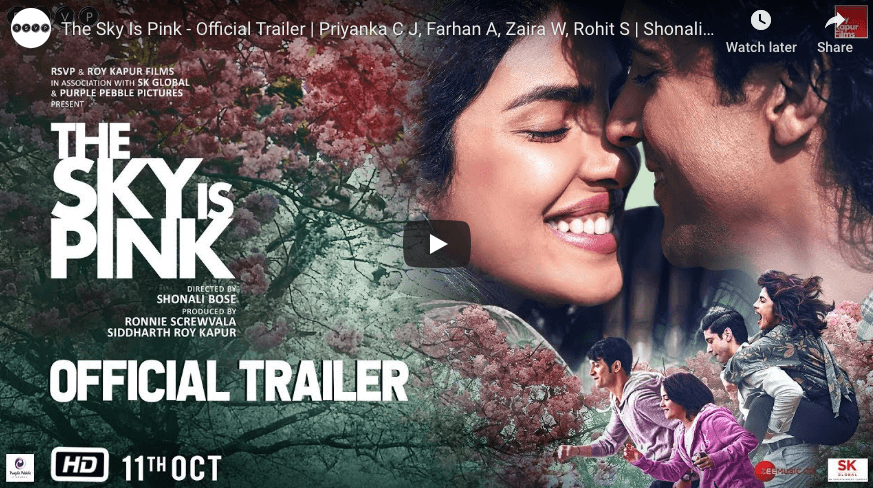 The trailer of Bollywood actor Farhan Akhtar and Priyanka Chopra's film The Sky Is Pink has been released. In the trailer of The Sky Is Pink, besides Priyanka, Farhan, Zaira Wasim and Rohit Saraf are all seen in star roles. The Sky Is Pink is Priyanka Chopra's comeback movie. Priyanka is seen in Bollywood for almost 2 years. The poster of the film Sky is Pink was released a day before trailer release. In this poster, Priyanka is seen sitting on Farhan's shoulder. According to reports, the story of the film The Sky is Pink is based on a true incident. The film Sky is Pink is going to be released on October 11, 2019.
Priyanka Chopra is playing the role of Zaira Wasim's mother in the film The Sky Is Pink. The story of the film The Sky Is Pink is seen revolving around a 13-year-old girl. Who gets a serious illness and at such a time her family handles her. Priyanka's fans are excited about the film The Sky Is Pink. Because her Indian fans have been waiting for her return for the last two years. Earlier, there was news that Priyanka Salman Khan's film is going to be seen next, but Priyanka left the shooting in the middle and now PC is seen in The Sky Is Pink.
The pair of Priyanka Chopra and Farhan Akhtar are once again coming together in this film. Priyanka and Farhan were earlier seen in the film Dil Dhadakne Do. Apart from Priyanka and Farhan, Ranveer Singh was also present in this film.