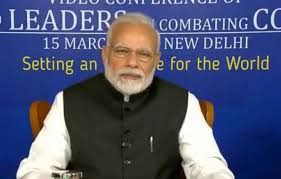 On Thursday March 19th, Prime Minister Narendra Modi began to address the nation. He aims to brings solace among the public since the outbreak of novel corona virus pandemic that has spread across India. The Prime Minister's Office earlier announced that Narendra Modi would be dealing with the issues that the nation is currently facing relating to the pandemic and the efforts which need to be taken to fight it.
The Prime Minister's Office also stated that Narendra Modi had earlier gone on to chair meeting which reviewed the efforts which are being taken to contain COVID-19. The discussion was held to further strengthen the procedure and discuss how prepared the country is to take on this pandemic.
The Prime Minister further highlighted that people at different levels i.e. individuals, local communities and organizations are trying to figure out variations of mechanisms which will help fight COVID-19. He has encouraged the officials and technical experts to take whatever steps required to cut down the contamination of the country.
The Prime Minister has expressed his sincere gratitude towards the officials who have put their lives at stake to help combat COVID-19. He thanked the state governments, medical fraternity, paramedical staff, paramilitary and armed forced as well as those who are associated with the municipal staff, aviation sector and others.
The entire speech given by PM Modi will be available on LIVE BLOG of ibtimes.co.in.