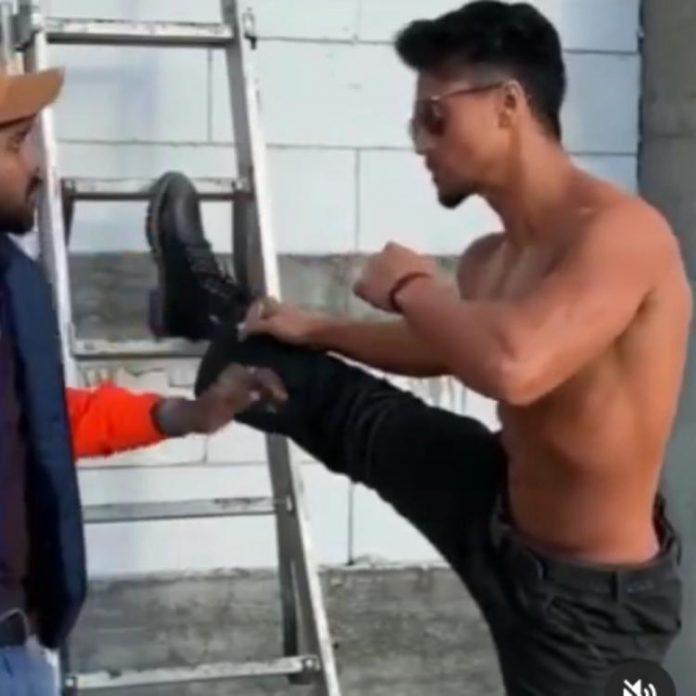 After the success of Baaghi and Baaghi 2, Sajid Nadiadwala is back with next part of this series, Baaghi 3. The film shall star Shraddha Kapoor and Tiger Shroff once again after a wonderful chemistry in the first two parts.
Tiger Shroff is currently shooting in Serbia for Baaghi 3. He has been active on Social Media posting his whereabouts and stills while shooting in Serbia. Be it recreating Keanu Reeves matrix video or be it posting shirtless pics in the minus 3 degrees temperature. Tiger Shroff is very professional and dedicated towards his work. He is training hard for this movie. Today, Tiger Shroff posted a video where his hairdresser is adding finishing touches to him before he goes for his shot.
He has also posted a photo where we see him shirtless and having a conversation with his hairdresser, Amit Yashwant. He has captioned the photo saying, 'Just before the Director says Action'. Baaghi 3 is scheduled to release in 2020.
Tiger Shroff has gone on to become a successful actor due to his action and dance skills. He is one of the highest paid actors in India. He has featured in Forbes India's celebrity 100 list. He is a devout Hindu devotee of Lord Shiva and attributes his physique to Lord Shiva. He notes Michael Jackson as his inspiration and wants to have a dance face off with Hrithik Roshan, Varun Dhawan and Chris Brown.
Tiger Shroff has confirmed that he shall appear in Hindi remakes of five films of the Hollywood film Franchise, Rambo. The remake of the first film, First Blood, will be directed by Siddharth Anand, is scheduled to release in 2020. He is a through professional with his work and trains hard with total dedication to give an excellent output.