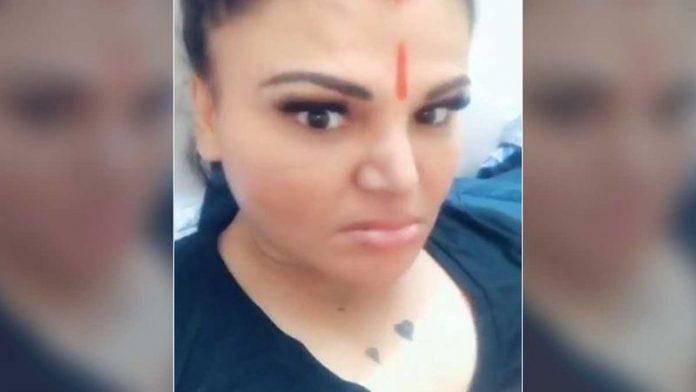 Rakhi Sawant and Controversies go hand in hand. Recently she posted a video where she has once again found spotlight in another controversy. The actress has shared a video where she is seen mocking ex Big Boss contestant Himanshi Khurana on her comment about being Punjab Ki Aishwarya Rai.
Rakhi Sawant is currently a favorite in the Big Boss 13 house. Though she is not part of the house, she is in all ways related to the house. Contestants, in their nasty fights and arguments are often seen giving Rakhi Sawant's reference.
https://www.instagram.com/p/B55droZn91U/?utm_source=ig_embed
Hindustan Bhau called Shehnaaz Gill as Rakhi Sawant of the house. Her name has been misused many times on the show. This video is her comeback answer to all the contestants, where she is seen mocking Himanshi Khurana.
The controversial actress has posted a Tik Tok video on her Instagram handle. In the video, Rakhi Sawant is seen gracefully mocking Himanshi Khurana's voice. The video is about when Himanshi Khurana answers a question asked to her by host Salman Khan.
Viewers might know that Shehnaaz Gill terms herself as 'Punjab Ki Katrina Kaif. So similarly, Salman asked Himanshi Khurana the same question. Himanshi mentioned that if Shehnaaz is called 'Punjab Ki Katrina Kaif', then she is called 'Punjab Ki Aishwarya Rai'. Salman Khan was amused with her answer.
Rakhi Sawant has gave a fitting reply to all the contestants who have misused her name unnecessarily. Rakhi Sawant loves to be in the spotlight related to controversies. She was recently in headlines for her secret marriage to NRI husband Ritesh and her relationship with him. She also has posted videos and photos where she was seen celebrating her birthday. She had a blast on her birthday with her close friends.