Digital Partner
Amazon Prime Video is India' s leading digital streaming partner. Amazon Prime has a wde variety of series as well as movies which are not available elsewhere. Other than the Amazon Original series or movies, many producers choose Amazon Prime as their digital streaming partner. Owing to which a lot of latest movies post the eight week legal period wherein no recent films can be streamed online are usually found on Amazon Prime. On the 27th of March, Amazon released the recent film Jawaani Jaaneman and is all set to stream another four recent Hindi films over the next few weeks.
Shikara





Shikara is a recent Hindi language romantic drama that was released on 7th February 2020 in theatres across the country. The film has been produced and directed by Vidhu Vinod Chopra. The film is based on a Kashmiri Hindu couple at the peak of Islamic terrorism in Kashmir during the 1990's. Shikara is a tale of the trials and tribulations this couple undergoes as well as the genocide and subsequent exodus of Kashmiri Hindus. Some people severely criticized the film and even went on to boycott it because it focused on a romantic love story rather than the genocide and exodus of Kashmiri Hindus. Some critics commented on the films failure as a political drama and success as a love story. While on the flip side of the coin, a few people appreciated the fine fusion of mixing real life events with a romantic story. The film was a one sided story that catered to the cinematic appeal of a certain strata of movie goes. Critics from the Times of India and India Toda have given the film 3 out of 5 stars for the story has beautifully woven real incidents as well as a fictional love story.
The cast of the film included Aadil Khan as Shiv Kumar Dhar,, Sadia as Shanti Dhar, Zamir Ashai as Khursheed Hassan Lone, Zain Khan Durrani as Lateef Lone and Priyanshu Chatterjee as Naveen.
Shikara Amazon Prime Video Release Date
Shikara will be released on Amazon Prime Video on 3rd April 2020. The film was hugely controversial as some felt that the filmmakers focused mainly on the love story and not a very heavy political topic which should have been the main focus of the film. The film will now be available to a wider audience and a more wholesome view of the film will now be attained. To watch Shikara tune in to Amazon Prime Video on 3rd April.
Shubh Mangal Zyada Saavdhan
Any Ayushmann Khurrana film never ceases to amuse and this time around he took his choice of film to an area less traveled by. Every since Section 344 has been passed in India, the concept of homosexuality has been discussed but never openly admitted. This time around, Shubh Mangal Zyada Saavdhan broke apart from this mould. The film is a romantic comedy that has been written and directed by Hitesh Kewalya. The film is produced by Aanand L.Rai, Himanshu Sharma, Bhushan Kumar and Krishnan Kumar. This film is a spin off to the 2017 film Shubh Mangal Saavdhan. Here in Kartik is an openly gay man who is in love with Aman. They live together in Delhi but Aman's family does not know that their son is gay. When his father catches them both kissing he refuses to accept that his son is homosexual. He uses every trick in the book of an Indian parent to convince his son to marry a son. This includes feigning sickness, attempting to commit suicide and the usual tarnishing of the family name. After creating countless obstacles in the lives of both the lovers he finally accepts them. The film released on 21st February 2020 and was widely accepted by the audience and applauded for finally bringing forward a topic that was considered to be taboo.
Shubh Mangal Zyada Saavdhan stars Ayushmann Khurrana as Kartik Singh, Jitendra Kumar as Aman Tripathi , Neena Gupta as Sunaina Tripathi, Gajraj Rao as Shankar Tripathi, Manu Rishi as Chaman Tripathi, Sunita Rajway as Champa Tripathi, Maanvi Gagroo as Goggle Tripathi and Pankhuri Awasthy as Kusum.
Shubh Mangal Zyada Saavdhan Amazon Prime Video Release Date
Considering the wide appreciation that Shubh Mangal Zyada Saavdhan received from the audience its release on Amazon Prime Video is eagerly awaited. People who have not been able to catch the film in the theatres but have heard about its amazing script will be able to watch the film on Amazon Prime Video from 17th April 2020 onwards.
Bhoot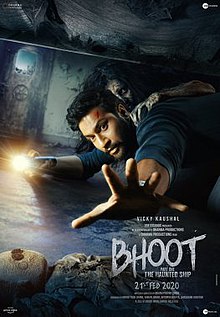 Bhoot-Part One: The Haunted Ship is a Hindi film that falls under the horror thriller genre of cinema. It has been written and directed by Bhanu Pratap Singh and jointly produced by Karan Johar, Hiroo Yash Johar, Apoorva Mehta and Shashank Khaitan. The story of the film is based on a true incident that had taken place in Mumbai. It tells the story of a couple on an abandoned ship which was lying on a beach, static. The film is the first part of a series of planned horror film franchise. The film was theatrically released in India on February 21st 2020.
The film stars Vicky Kaushal as Prithvi, Bhumi Pednekar as Sapna, Ashutosh Rana as Professor Raghuveer Joshi, Siddhanth Kapoor as Captain Siddarth, Meher Vij as Vandana, Sara Gesawat as Meera and Priya Chauhan as Nilofer.
Bhoot Amazon Prime Video Release Date
Being the first in a franchise is a stepping stone towards so much more. It opens the gates for films to be categorized under and the film has tremendous pressure on itself due to these reasons. Bhoot being the first horror film in the franchise managed to get the gasps and instill fear within people who watched it in theaters. The fear element is present and Amazon Prime Video will play to this feature. The film will release on Amazon Prime Video on 18th April 2020.
Thappad
Thappad is a Bollywood drama film that has been directed by Anubhav Sinha and is produced by him and Bhushan Kumar. The film hit the theaters on 28th February 2020. The film stars Taapsee Pannu in the lead role. Amrita (Taapsee Pannu) and her husband Vikram (Pavail Gulati) have been married for quite a few years. One day, at a party, Vikram slaps Amrita. Amrita is not one to take such an action lightly. She files for divorce as he self respect is disrupted by this brutal action. The film received a lot of praise from the critics especially due to the fact that it gave a strong social message, its interesting screenplay, direction and performances. It's only criticism was for the film's slow pace.
The star cast of the film includes Taapsee Pannu as Amrita Sandhu/ Sabharwal, Pavail Gulati as Vikram Sabharwal, Tanvi Azmi as Sulekha Sabharwal, Sushil Dahiya as Romesh Sabharwal, Nidhi Uttam as Kavita Sabharwal, Kumud Mishra as Sachin Sandhu, Ratna Pathak Shah as Sandhya Devi, Ram Kapoor as Advocate Pramad Gujral and Dia Mirza as Shivani.
Thappad Amazon Prime Video Release Date
Thappad is one such film that every person should watch, may it be of any gender. The concept of self respect is so fragile that you need strength of character to fight for what you stand for. Such a film is important during such dire times when humanity is so uncertain and selfish. Thappad will release on Amazon Prime Video on 24th April 2020.