The globally acclaimed dating app, Tinder has 'swiped right' for the LGBT community's movement with a major update. This update was released on the 4th of June 2019 and it is popularly termed as its 'sexual orientation' update.
The LGBT community is celebrating Pride Month across the world and Tinder has embraced the community with this update which enables the user to add their sexual orientation in their profiles. This is a major move in making Tinder look more inclusive when it comes to respecting the sexual feelings of every user it has.
"We want all of our users to feel empowered expressing who they are while connecting with new people — and we're always working to make that easier for our users on Tinder," – Tinder CEO – Elie seidman
Dating apps are becoming more popular amongst the LGBTQ community and Tinder aims to create a trustworthy environment for the community to find their suitable partners. This will also help Tinder to accumulate data related to the sexual orientation of its users, thereby enhancing the ability to match them with their like minded people.
Tinder has stated that this update has cropped up as result of user feedback and also based on a recent study which encouraged the dating app company to take a step forward in helping people express their sexual orientation, especially in the United States.
How Does the New Sexual Orientation Update Work in Tinder?
Existing Tinder Users, can 'edit their profile' by navigating to the 'Orientation' tab and select a maximum of three terms which expresses their sexual orientation. At the end of the day, this is an optional feature in the user's profile.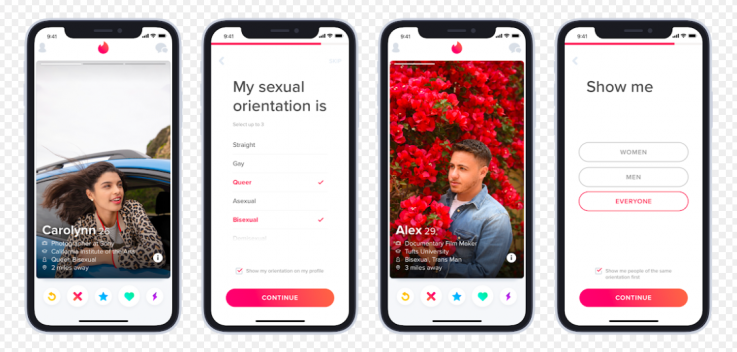 For new Tinder users , the orientation question will pop up in the beginning when you're in the process of setting up your profile.
Where Will the New Sexual Orientation Related Tinder Update Be Available?
The Sexual Orientation update in Tinder will be live in India, Australia, US, UK, Canada, Ireland and New Zealand from the month of June.