One of the most loved faces in the Telgu industry is Kavya Thapar. Through her work on different screens she has entertained the audience from a very young age. She was born on 20th August 1995 in Maharashtra. She completed her schooling from Bombay Scottish School Powai. Thereafter she joined one of the most prestigious colleges in India for management studies, Thakur College of Science and Commerce. After her college she got an offer from Shanoo Sharma from YRF. Soon she realised that her acting skills needed direction and a lot of improvement.
Right in the beginning of her learning stage she found the acting Guru Sir Atul Mongia. Later she took part in several workshops of Rachit Singh, Prashant Singh, Neeraj Kabi and Shanoo Sharma. In 2013 she got her first movie Tatkal which did not do well on the box office. Later on the first movie that made her popular was Ee Maya peremito. It was released in the year 2018.
Interests, Ad Films and Much More
Apart from movies she has also done a lot of ad films for brands like Patanjali, Make my trip and Kohinoor. In one of her interviews she said that she will always look forward to creative fields and art forms that ignite the passion within her. Kavya has also great interest in dancing, singing, painting and writing poems. Recently she has taken the lead role in one of the big budget movies, Market Raja M.B.B.S. This will be her debut movie in the Tamil industry.
 All about the Movie Market Raja M.B.B.S.
Under the direction of Saran, Market Raja is yet another badass story of a Don who is all set to entertain the audience. Action packed and fully dramatic, the cast of the movie has been unfolded. The very popular Bigg Boss celebrity Arav has been chosen for the lead role in this movie. The director said that he is the perfect match for a character like this because of his looks and personality. The trailer of the movie just dropped in and we can expect a lot of non-cliched drama happening in the movie.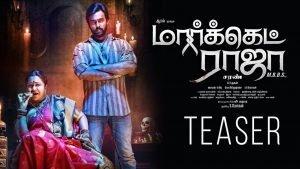 Cast, Character and Cinematography
The film has Arav and Kavya as the leads. The amazing veteran actress Radika Sarathkumar is seen in the most unorthodox form. In this movie she is all dope, smoking cigars, dark shades and bad ass sugar mommy. The film is in the post production stage. Simon K King is the music composer for the movie. Also, this is the first time when Saran has collaborated with his younger brother KV Guhan for a movie. The younger brother will be handling the department of cinematography. Stay tuned for this blockbuster movie.