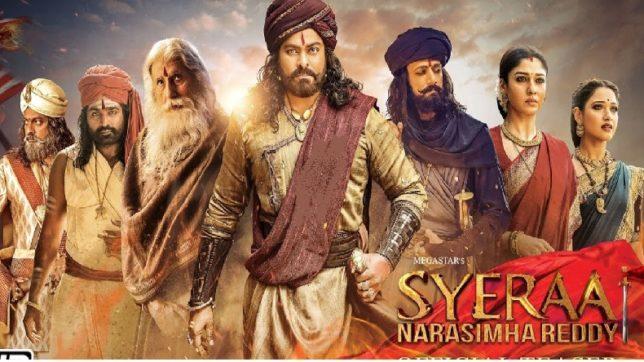 Swaasalona Desame is one of the most awaited Telugu song from the mega movie Syeraa Narasimhareddy. The other songs from the movie are the title song, Andam Ankitam and Jaago Narasimha Jaagore which were well received by the audience too. Amit Trivedi is the music director for the song and this is his first song in the Telugu movie industry.
The song is sung by Haricharan and the lyrics were written by Chandrabose Garu. Sye Raa Narasimhareddy is produced under the banner of Konidela Productions.
The star for the movie Sye Raa Narasimhareddy are Chiranjeevi, Nayanthara and Tamannaah. Vijay Sethupathi and Sudeep are playing major roles in the movie as well. Syeraa Narasimhareddy is the biopic of India's first freedom fighter Uyyalawada Narasimhareddy. The story revolves around his fight against the Britishers in the Telugu Desam. Director Surender Reddy makes a comeback after a superhit movie 'Dhruva'. The movie has opened to amazing reviews all over India on the 2nd of October 2019.
Swaasalona Desame Song Lyrics 
Swaasalona Desame
[Swaasalona Desame]
Gunde Goshalona Desame
[Goshalona Desame]
Praana Naadilona Desameyyy
Praanamantha Thalli Kosamey . .
Maatalona Desame
[Maatalona Desame]
Katthi Vetulona Desame
[Vetulona Desame]
Kaali Adugulona Desame . . .
Kaali Boodidhaina Thalli Kosame
Desamey Nuvvuraa . . .
Sandheshamayyeraa
Desamey Nuvvuraa . . .
Sandheshamayyeraa
[Sandheshamayyaraa]
Chinnari Praayamandhunaa
Kannollanodhili Naavuraa
[Kannollanodhili Naavuraa]
Kanneeta Padhunu Theleraa
Khadgameyyyyyyy
Prayaanamaina Poruloo
[Prayaanamaina Poruloo]
Preminka Inki Poyaraa
[Preminka Inki Poyaraa]
Dhositlo Dhaachinaavuraa
Sandhrameyyyyyyy
Prajala Swecchakai
Pranalanodhuluthuu
Pathaakamalle Yegirinaavuraa
Desamey Nuvvuraa . . .
Sandheshamayyeraa
Desamey Nuvvuraa . . .
Sandheshamayyeraa
[Sandheshamayyaraa]
Desamey Nuvvuraa . . .
Sandheshamayyeraa
Desamey Nuvvuraa . . .
Sandheshamayyeraa
[Sandheshamayyaraa]
Desamey Nuvvuraa . . .
Sandheshamayyeraa
Desamey Nuvvuraa . . .
Sandheshamayyeraa
[Sandheshamayyaraa]