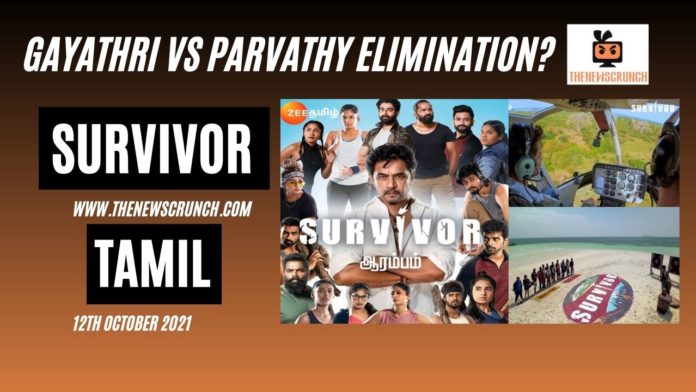 Zee Tamizh's survival-based reality show 'Survivor Tamil' starts off a new week with a shocking elimination. 'Survivor Tamil' is gaining a lot of coverage and fan base, thanks to the show's format. However, the limelight falls on the two contestants, Parvathy and Gayathri who will complete for safety from elimination this week.
அட என்னங்கடா அவர Daily Gand ஏத்திட்டே இருக்கீங்க.

Survivor | 12th Oct | Promo 2 | Daily 9.30 pm#SurvivorTamil #Survivor #ZeeTamil #சர்வைவர் #ActionKingArjun @akarjunofficial pic.twitter.com/ExB5iagOZe

— Zee Tamil (@ZeeTamil) October 12, 2021
'Survivor Tamil' Elimination Update
Vijaylakshmi was the latest contestant to be sent to the third world. However, bad luck was the main reason for Vijayalakshmi's elimination. Saran and Aishwarya played a strategy to give Vijayalakshmi two votes. However, Saran received the maximum votes for potential elimination from 'Survivor Tamil' this week.
Luck favored Saran and his golden pearl ensured that he could eliminate one contestant from the show. Hence, Saran chooses Vijayalakshmi to save Aishwarya. Earlier in the episode, Aishwarya was at the receiving end of Arjun's fury for requesting privacy. Saran violated the norms of the game and there are expectations of his walkout from the show.
'Survivor Tamil' Third World Elimination Task
Gayathri and VJ Parvathy received the opportunity to face the challenge. Parvathy won a challenge before while Gayathri won two before this. However, Gayathri was successful in ensuring she solved the puzzle on time and used her strategical mind to the fullest.
Hence, Gayathri won the task while VJ Parvathy was finally eliminated from 'Survivor Tamil'.