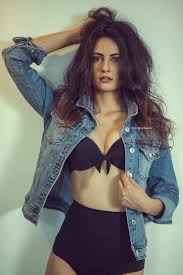 MTV Supermodel of the Year is an Indian reality show. The audience get to see women from different walks of life compete for the title of Supermodel of the Year. This platform gives them a podium to begin their career in the modelling industry. Ten girls compete for the coveted title under the guidance of Anusha Dandekar and Ujjwala Raut. Their fate is then decided by the three judges; Malaika Arora, Masaba Gupta and Milind Soman. The show is successfully winning hearts as the audience traverse in the journey to fine one Supermodel among ten extremely dedicated and passionate models. The show started off with a four week boot-camp after which there would be only seven contestants remaining with the bottom three getting eliminated. The upcoming episodes will see the contestants opening up with their journeys and the hardships they have faces in their lives and how they overcame them.
Anvita Dixit
Eashita's Revelation
21 year old modelling aspirant Eashita Bajwa who hails from Bengaluru revealed the other day that she is a depression survivor. In a video she revealed that she has scars and secrets embedded deep within her. There has always been a darkness in her eyes that speaks louder than words. For a long time she was forced to be quiet. When she was younger she had no friends to call her own. Her father was an alcoholic and used be very violent. She breaks down when her mother's name comes on her life. She says that you don't realize when the depression seeps into you and takes control. She used writing as a source of venting since she was unable to speak about.
https://www.instagram.com/p/B8V8TF5KTqQ/
Eashita is a depression survivor and encourages others who are facing the same to fight it out and let themselves win. It shows that however much a person puts up a brave face to the world, they could be corroding within.