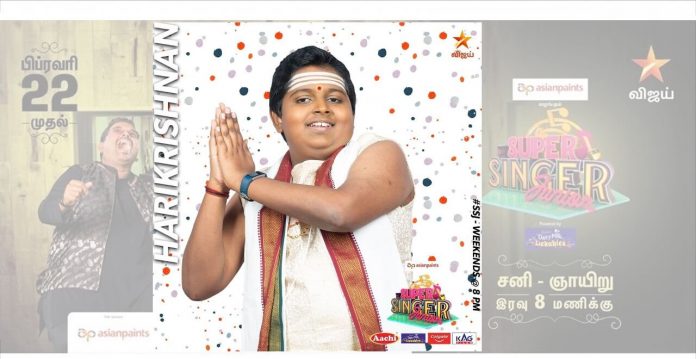 Vijay TV Super Singer is one of the most elite singing competition of India and it's next to Indian Idol in terms of production value. The top 20 contestants are made to go through so many rounds before filtered out at different stages and finally the winner is announced after six months of intensive competition. The viewers play a huge role in this competition as Voting for Super Singer is opened at various levels of competition for them to vote for their favourite singer.




Super Singer Junior is for the kids between age 6 to 15 years and the season 7 of this elite competition is now being telecasted during weekends at 8PM on Vijay Tv.
Super Singer Junior 7 is off to a great start in terms of TRPs and the hosts MA KA PA and Priyanka are adding to the entertainment factor by rejoicing with the cute and young contestants with an amazing singing talent.
Super Singer Junior 7 29th February & 1st March Selection Round Performances and Highlights
Mithushree is one of the strongest faces of Super Singer Junior 7 and she has a history of being rejected in SSJ5 a couple of years ago. She set the stage on fire with her jazzy 'Gundu Maanga Thoppu Kulla' song. She also made a funny allegation that Ma Ka Pa was the reason for her rejection in SSJ5 auditions. As a result, she wanted Ma Ka Pa to be lifted by Hari Krishnan, the cute bubbly contestant of SSJ7.
As the young contestants fight it out for getting selected in their favorite judges teams, it looks like there a lot of fun and frolic around the whole process which is what makes Super Singer Junior 7 an astounding success.
https://www.youtube.com/watch?v=lkoIU8852mI
Krishaang enlightened the judges and audience with a heart warming performance of the famous song 'Buddhi ulla manidhan ellam'. Chitra mam is seen hitting the gong for his wonderful performance and it looks like Krishaang is a hot favorite of Shankar Mahadevan this season. He congratulated the young talent and wished he was in his team.
Hari Krishnan is the most bubbly face of this season's Super Singer Junior. A lot of comedy and fun is revolving around this kid who performed well and was also trolled by Ma Ka Pa and Priyanka with a huge tiffin carrier.
https://www.youtube.com/watch?v=iPzU7AfJWRI
Who will be the best performer of this week in Super Singer Junior 7? Let us know in the comments below.