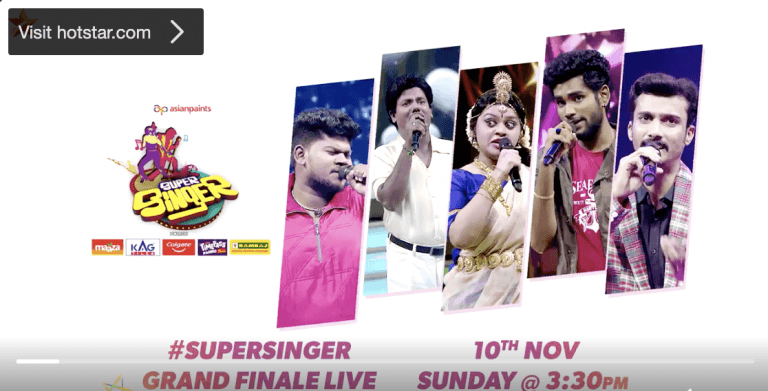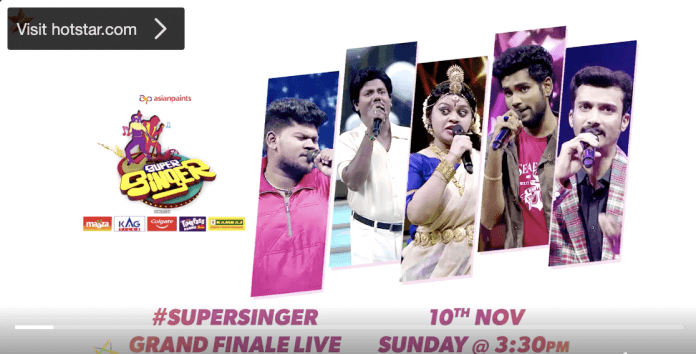 Super Singer 7 finale is two days away and top 5 finalists are eager to perform in front of live audience in Coimbatore on Sunday 10th November 2019 from 3 pm. Super Singer 7 finale will be held at "Codissia Trade Fair Complex" Coimbatore and tickets are available at places announced on Vijay Tv. The voting lines will be open till Sunday 8 PM as audience can vote after seeing the live performance of our contestants.
Daily audience can give 50 votes for a contestant after signing into Google. You can find the voting details here:
How To Vote For The Super Singer Finale Contestants Online
Go to Google, sign in and search for 'Super Singer Vote' (or) 'Super Singer 7 Vote'
Click on the candidate for who you wish to vote.
Select the number of votes (maximum of 50 votes per day).
Click Submit.
Your votes will be successfully submitted to Star Vijay TV.
Voting in The News Crunch Poll:
Alternatively vote in our voting poll to get results on who will win the Super Singer 7 finals




Vote and save your favourite contestants
Super Singer 7 Voting Results Today 8th November 2019
As of today November 8 2019 these are the results for Super Singer 7
Murugan is gaining majority of the audience support and leading the voting poll with 39% vote, he is clearly the Super Singer 7 winner according to audience.
Sam-Vishal is at 2nd position and is trailing by 9% with 30% vote, he has lost 2% yesterday and Murugan has gained his top spot back. Sam-Vishal still has some chance to be the winner as it depends on the Judges vote too along with audience.
Punya is back at number 3 with 13% vote and has 1% more vote than Vikram
Vikram is at position 4 with 11% vote and still has opportunity to take over Punya
Gowtham is still trailing at no. 5 with 8% vote, it's not sure if he can overtake Vikram and there are two more days of voting left
What are your thoughts? Whom do you think should win Super Singer 7 title? Comment below.