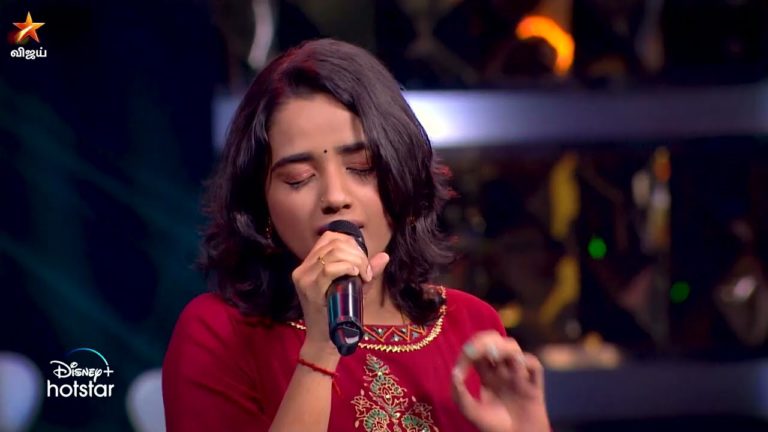 Super Singer Season 8, South India's biggest music reality show is back this weekend. The super entertaining and highly talented singers will battle it out in an epic competition this weekend. Seven eliminations or vote outs took place in Super Singer 8 so far. The top 20 contestants are now reduced to 13 but the suspense around elimination this weekend looms large.
The battle to enter the safe zone will heat up tonight. Puratchi Mani was the last contestant to get eliminated from Super Singer 8. Vibrant judge from the previous seasons, Shwetha is back in Super Singer 8 this week.
Super Singer 8 Elimination List
Sushmitha
Kanimozhi
Kabhini Mitra
Reshma
Jakkulin
Puratchi Mani
Kumuthini Pandian
Super Singer 8 17th and 18th April Episode Highlights: Big Battle Single vs Mingle Performances
The big battle will feature an interesting battle between the talented top 13 of Super Singer Season 8. This week the singers will be divided based on their relationship status. However, the results of the one on one battle will decide the fate of the contestants this week.
The host Ma Ka Pa Anand lights up the stage yet again but the focus is on the seasoned performers of Super Singer 8. However, this season is known for many reasons. The singing reality show is transforming into a fun and hilarious mixture of content. The audience is delighted to see the performances of the strongest singers of this season.
Iyannar lights up the stage with an epic rap and the story of his life as a single guy brings cheer to the audience. However, the competition is tough and Sridhar provides yet another standout performance this weekend.
Super Singer 8 Elimination This Week
Though the talented singers put their best foot forward, the journey will end for one of the singers this weekend. The eighth elimination of Super Singer 8 will feature the vote out of one contestant from the danger zone. It would be interesting to see which contestant is shown the door in this epic singing reality show.
According to reports, Kumuthini Pandian is evicted from Super Singer 8 this week. As a result, Balaji was safe this week.