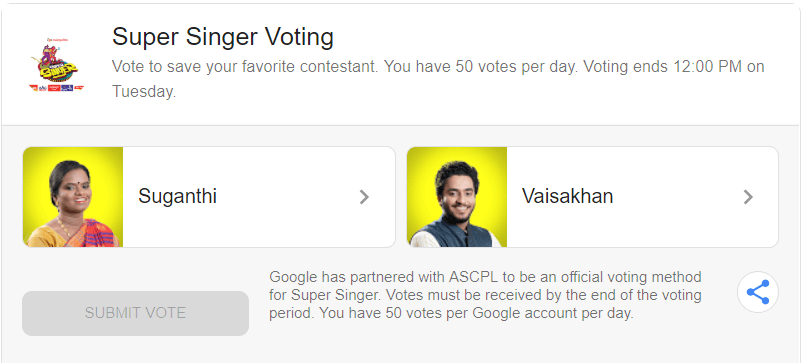 Super Singer Season 7 is off to a great since April 2019. The show is been successful in showcasing singing talents on a huge platform for years now. Season 7 is doing well, thanks to the special presence of Anirudh Ravichandran, the music director. Famous Singers Swetha Mohan, Unni Krishnan, Benny Dayal and Anuradha Sriram are the judges of the show.




Super Singer Season 7 Elimination Voting Results September 1st to 4th
Vaisakhan and Suganthi battled against each for the elimination voting results this week in Airtel Super Singer 7. It was a close competition during the initial hours of voting. However, Vaisakhan consolidated on his lead and is reportedly leading in terms of the number of votes.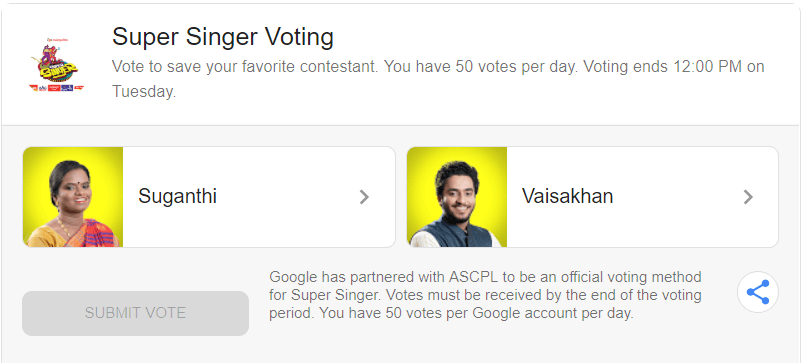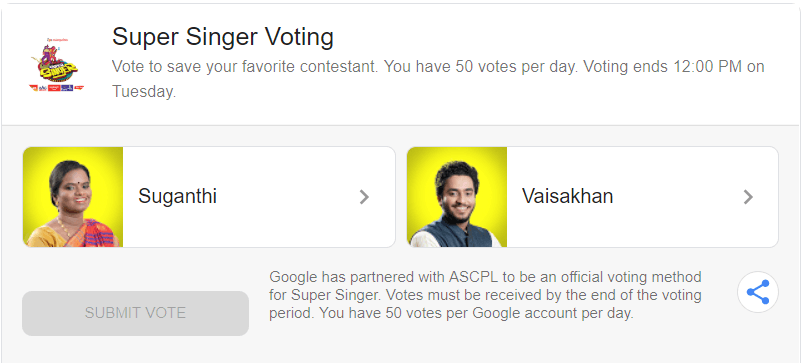 However, these reports are based on unofficial voting numbers generated by voters on various polling websites. We will have to wait a little longer for the official results of the Super Singer 7 vote results.
Vaisakhan – 58% of the votes 
Suganthi – 42% of the votes
Across platforms, it is conclusive that Vaisakhan leads the voting results for Super Singer 7 this week. To understand how Super Singer Voting works, follow the link to the post below:
Super Singer 7 Online Vote Results: It is Suganthi Vs Vaisakhan This Week!
Do you think Vaisakhan deserved the lead? Let us know in the comments below.