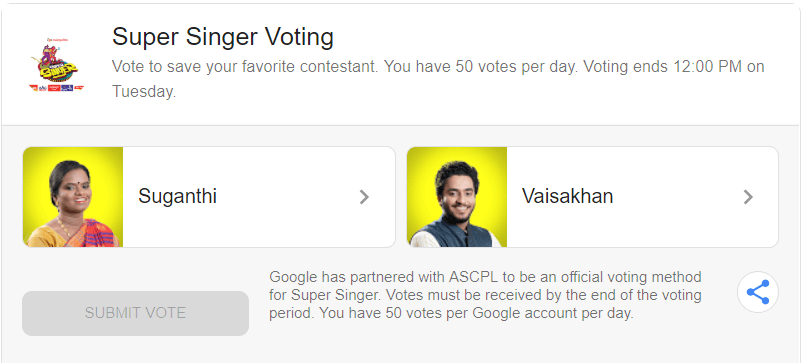 Super Singer Season 7 is off to a great since April 2019. The show is been successful in showcasing singing talents on a huge platform for years now. Season 7 is doing well, thanks to the special presence of Anirudh Ravichandran, the music director. Famous Singers Swetha Mohan, Unni Krishnan, Benny Dayal and Anuradha Sriram are the judges of the show.
Super Singer Season 7 Elimination Voting September 1st to 4th
Each week, a couple of contestants will face elimination and the audience are bound to save their favorite among the two. The online voting procedure for Super Singer 7 is a very simple process.
#VoteToSave உங்கள் அபிமான #சூப்பர்சிங்கர் போட்டியாளரை காப்பாற்ற 'Super Singer Vote' என Google Search செய்து வாக்களியுங்கள்! https://t.co/GRSkO3w8Qm #Roshini #SamVishal #SuperSinger @MaazaIndia #VijayTelevision pic.twitter.com/g9Byc8lJyY

— Vijay Television (@vijaytelevision) August 25, 2019
Super Singer Vote 7 Official Method:
Super Singer Voting through Google:
Open Google in your browser and type 'Super Singer Vote' (or) 'Super Singer 7 Vote' in the search bar. or Click this link – https://g.co/kgs/waoPEZ
PS: Do not open the browser in incognito mode.
The two contestants who are eligible to obtain your votes will be listed as the first search.
Click on the candidate who you wish to vote.
A maximum of 50 votes will be available for each user per day.
Click on the contestant and drag the slider (to a maximum of 50) for the contestant and click Submit.
You can split the votes for each contestant (for instance, you can give 30 votes for one contestant and 20 for the other).
Click Submit.
Your Votes have been successfully submitted to Star Vijay TV.
Super Singer 7 Online Vote Window : Voting Starts on Sunday, 8.30 PM and ends at 12 PM on Tuesday.