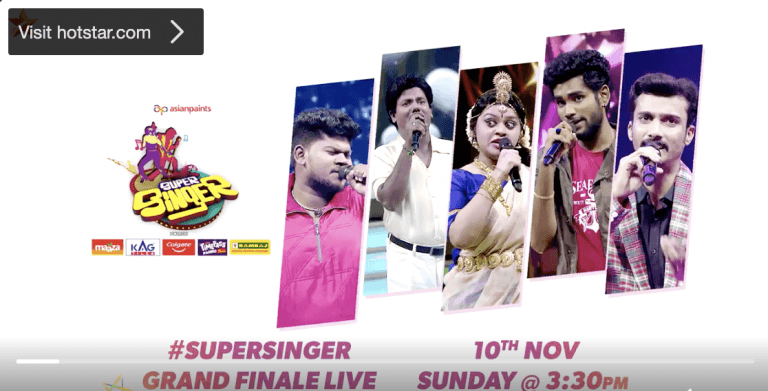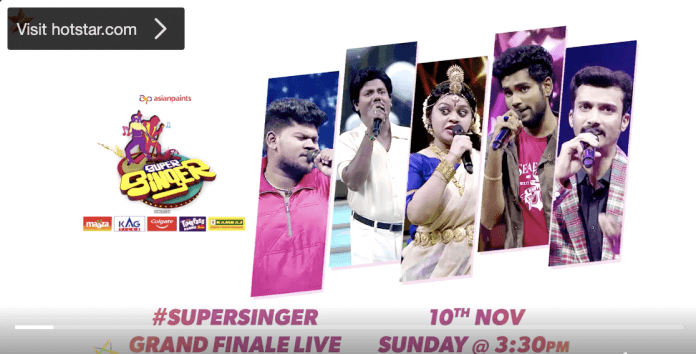 Super Singer Finale week in progress as the contestants are requesting on social media and via Vijay Tv to vote for them. There are totally five contestants competing for "Super Singer 7 Title" and of them two singers can become the winner of this season. These Top 5 contestants are Gowtham, Murugan, Punya, Sam-Vishal, Vikram. These five contestants are equally good and they've gone through a rigorous six months competition and various filtrations to reach this level. It must be noted that Punya is the only female contestant in Top 5 and she is from United Kingdom.




Super Singer 7 Voting Result 6th November
There is intense competition among voters as only four more days of voting remaining, finale will be held on Sunday 10th November 2019 from 3:30 PM. Voting closes at 8PM on Sunday.
Murugan is leading the voting poll but Sam-Vishal is slowly catching up. One more mind-blowing performance from Sam-Vishal on 10th November and he will take over Murugan to win Title. As of now Murugan has 35% votes
Sam-Vishal catching up to win Super Singer 7 Title and now he trails behind by 4% with 31% votes
Punya and Vikram fighting for third spot and they have less than 1% difference between them. Punya has 13% vote
Vikram has 12% vote but won't be surprised if he catches up and wins third position as there four more days of voting left
Gowtham is at number five with 8% vote and needs a miracle performance to reach top 3.
Are you happy with the results? Comment below.
Keep voting for your favourite contestants and make them win Super Singer Title.
How To Vote For The Super Singer Finale Contestants Online
Go to Google, sign in and search for 'Super Singer Vote' (or) 'Super Singer 7 Vote'
Click on the candidate for who you wish to vote.
Select the number of votes (maximum of 50 votes per day).
Click Submit.
Your votes will be successfully submitted to Star Vijay TV.
Voting in The News Crunch Poll:
Alternatively vote in our voting poll to get results on who will win the Super Singer 7 finals




Vote and save your favourite contestants