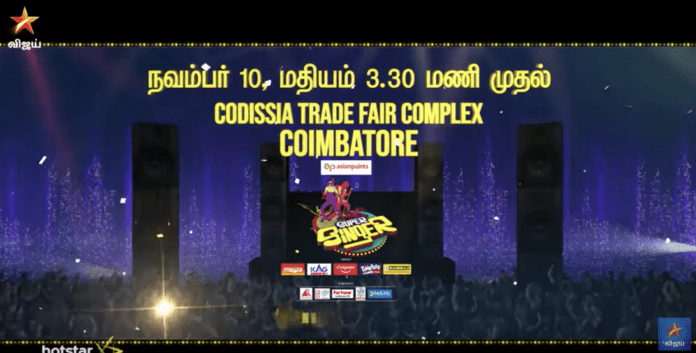 Super Singer 7 has finally reached its final stages and today we will finding out who is Super Singer Title Winner. The voting for Super Singer 7 is still open and will be available till 8Pm tonight Sunday 10th November 2019. The Top 5 finalists are Murugan, Sam-Vishal, Punya, Vikram and Gowtham. They will be performing live in front of crowd at Coimbatore Codissia Trade Fair Complex from 3:30 PM today. There are various reports on who the winner is and we will be sharing those details live here.




Super Singer 7 Winner Voting Results
According to voting results till 11am on Sunday 10th November 2019 Murugan is leading the voted with 40%. If this trend continues Murugan will be the winner of Super Singer 7.
People love Murugan, his economic background and his life struggles along with his singing talents made him crowd favourite.
If Super Singer 7 winner is selected according to voting results then Murugan will be selected as Winner as he clearly having 10% more votes than his next competitor Sam-Vishal
Sam-Vishal will most likely be the runner-up with 30% votes, But he still has fans who can boost his vote percentage and he can still cross over Murugan.
Chances for Sam-Vishal to cross over Murugan's vote count is less. But voting lines are open till 8PM. We will wait and watch on how it unfolds.
Super Singer 7 Winner According to Judges
There are various instances in previous Super Singer finales where crowd's favourite is not declared as the winner. In that case one of these may happen
Punya is judge's favourite singer. She is a better singer than Murugan too, but Murugan is crowd favourite. If Judges has to select Punya may be declared as Super Singer winner
Sam-Vishal is also a better singer and has crowd's support, in that case to appease crowd and still select Judges opinion he may be declated as winner too.
Murugan may be declared as runner in that case.
We just have to wait and watch how Super Singer finale unfolds from 3:30 Pm. We will be covering all the important performance and keep you updated on latest happening and voting results.
Super Singer Vote Online
Voting are still open, here is how you can vote online

Go to Google, sign in and search for 'Super Singer Vote' (or) 'Super Singer 7 Vote'
Click on the candidate for who you wish to vote.
Select the number of votes (maximum of 50 votes per day).
Click Submit.
Your votes will be successfully submitted to Star Vijay TV.
Voting in The News Crunch Poll:
Alternatively vote in our voting poll to get results on who will win the Super Singer 7 finals




Vote and save your favourite contestants