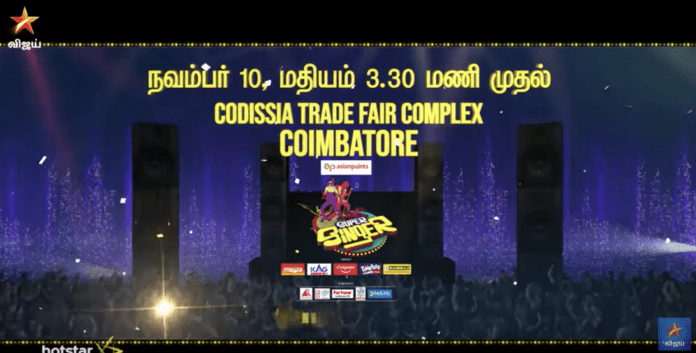 Super Singer 7 has reached its final stages and on Sunday 10th November Finale for season 7 will be live from Coimbatore starting at 3:30 PM. Five contestants have reached finale and they're Gowtham, Murugan, Sam-Vishal, Vikram and Punya. Set finale was aired on Vijay Tv on 3rd November 2019 and voting polls for finale will be open till 10th November Sunday 8 PM.




Music composer Anirudh will be the Chief guest of this event and Super Singer 7 winner will get a chance to sing in Anirudh's composition and a Flat from Arun Excello worth 80 Lakhs.
Super Singer 7 Finale Venue and Tickets
Super Singer 7 finale will be held at "Codissia Trade Fair Complex" Coimbatore on Sunday 10th November, 2019 from 3:30 PM. Tickets for the event will be available at Vijay TV office and more details on where it will be available on Vijay Tv will be updated shortly.
How To Vote For The Super Singer Finale Contestants Online
Go to Google, sign in and search for 'Super Singer Vote' (or) 'Super Singer 7 Vote'
Click on the candidate for who you wish to vote.
Select the number of votes (maximum of 50 votes per day).
Click Submit.
Your votes will be successfully submitted to Star Vijay TV.
Voting in The News Crunch Poll:
Alternatively vote in our voting poll to get results on who will win the Super Singer 7 finals




Vote and save your favourite contestants