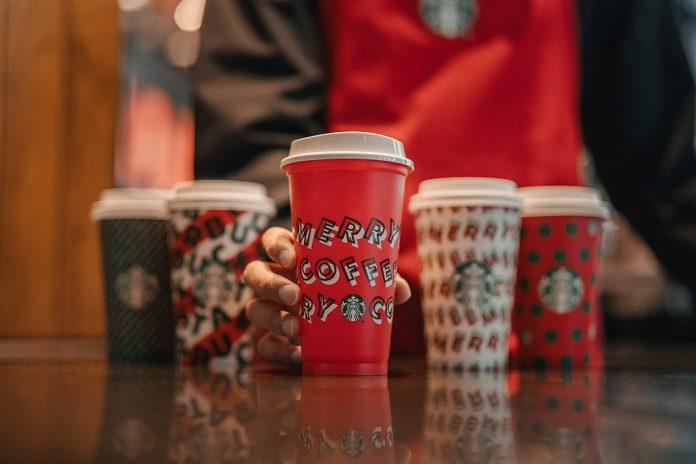 The Starbucks red cup is back, which means the holidays have officially arrived! The red cup signals the return of the merry-making season and today (Nov. 7) customers who order a holiday beverage at participating Starbucks stores score a free limited-edition reusable red cup, while supplies last.




The 2019 reusable red cup design is a riff on Starbucks' holiday theme for this year, with the words "Merry Coffee" dancing on an iconic holiday red background. Customers who bring their 2019 reusable red cup to a participating Starbucks store after 2 p.m. starting Nov. 7 will get 50 cents off their grande (16-ounce) holiday beverage through Jan. 6.
There seems to be something about the word "Christmas" that Starbucks doesn't like. The coffee chain is unveiling Thursday four new seasonal cups — and none of them uses the word "Christmas." The closest it gets are the words "Merry Coffee" on two of the four designs, plus "We wish you a merry coffee," on a newly designed cup sleeve.
Starbucks previously faced backlash from Christmas traditionalists when it issued plain red cups in 2015 and the "Symbol of Unity" cup in 2016, just a week before the presidential election. Recent years have seen holiday-colored pattern designs. The new Starbucks green cup is available exclusively in U.S. stores for a limited time.
Whether an aversion to using the word "Christmas" extends beyond Starbucks is difficult to measure. But in 2017, President Trump tweeted on Christmas Eve that Americans were "proud to be saying Merry Christmas again," since he took office. "I am proud to have led the charge against the assault of our cherished and beautiful phrase," he wrote. "MERRY CHRISTMAS!!!!!"