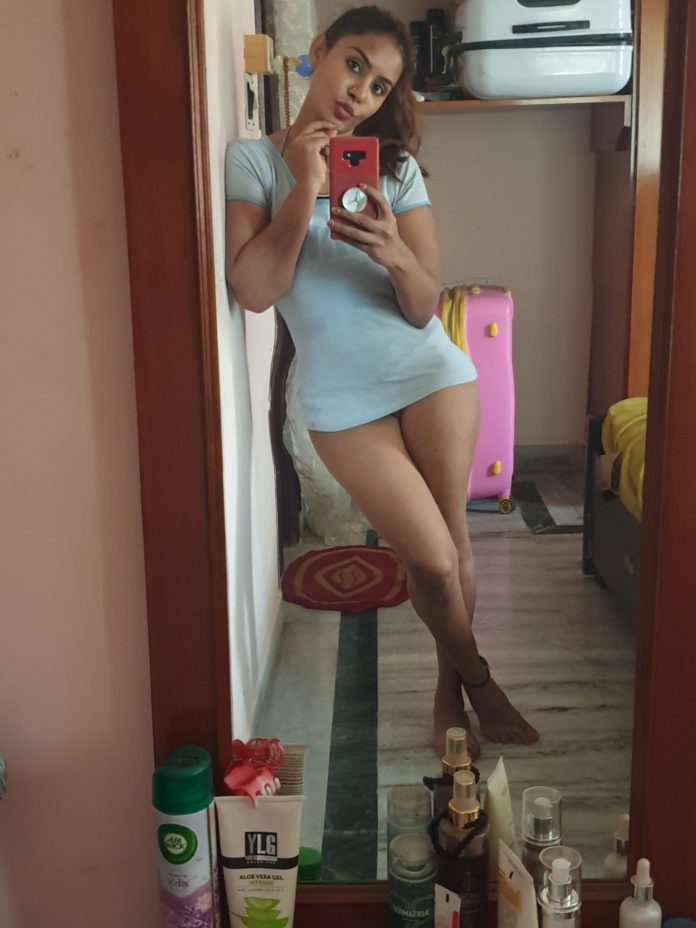 Sri Reddy, who is known for stirring controversy, is once again back in headlines, and this time, it's for a photo she has posted on her Facebook page. Sri Reddy, who has more than 5 million followers on Facebook, has posted a photo with a tight t-shirt and no pants. She even captioned this photo 'I wear only kid heart, no jeans.'
Fans who have seen this photo have commented a lot; some even appreciated her bold looks while others were trolling her. Sri Reddy gave a reply to these trollers and even warned them about blocking if they continue to post degrading comments on her photo.
Sri Reddy shot to fame with her explosive statements on the casting couch, which stirred a hornet's nest in Tollywood. She spoke up about the casting couch's existence and even made caustic remarks and accusations against several actors of the Telugu film industry.
Here are some of the controversial photos from Sri Reddy's Twitter account:
How is it My Naughty Hot Babes 💪😜🤪#SriReddy pic.twitter.com/toMqOTGv9t

— Sri Reddy (@MsSriReddy) January 21, 2021
How is it 🤔 Blue Love 💙😀#SriReddy #Master pic.twitter.com/ob9fMgvsUi

— Sri Reddy (@MsSriReddy) January 12, 2021
Happy Sunday 😉😉😉🤪🤪#SriReddy #KrackMovie pic.twitter.com/QgSVdDtgKN

— Sri Reddy (@MsSriReddy) January 10, 2021
After My Head bath, I feel like I re born again 😊#SriReddy pic.twitter.com/XgwwzIvWE8

— Sri Reddy (@MsSriReddy) December 26, 2020
I felt Honey on My Lip 😋😋#SriReddy pic.twitter.com/0FlHW3cPdQ

— Sri Reddy (@MsSriReddy) September 24, 2020
Follow Me 🙋‍♂️😍😍😘 #MsSriReddy pic.twitter.com/Mce8vItLYq

— Sri Reddy (@MsSriReddy) July 30, 2020