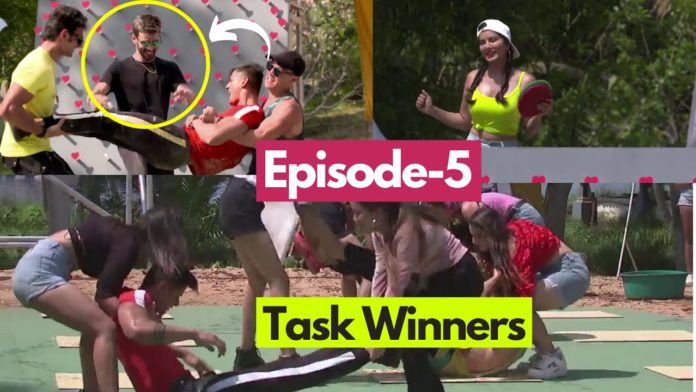 Splitsvilla X3 is back this weekend with its fifth episode. The grand premiere of Splitsvilla 13 introduced the sizzling girls and guys of this season. The fourth episode triggered fights and drama inside the villa. However, the broken connections will revive the chaos and drama inside the house.
Splitsvilla X3 3rd March Episode 5 Highlights – Silver Connection Winner Dates
The 'Silver connection' task winners Azma Fallah and Vyomesh got the privilege to go on dates. However, the dates lacked the punch which was found in previous dates. Azma chose Shivam, Gary and Jay for her date. Gary walked out in between as he felt his connection with Avantika was still alive.
Vyomesh chose Nikita, Arushi, and Bhoomika for his pool date. As always, the quarrel begins between Vyomesh and Arushi. Hence, Vyomesh settled with Bhoomika as a result of the date. It would be interesting to see who Arushi will pair up with within the upcoming days. However, Arushi lost her golden opportunity to mend her ways with Vyomesh.
Splitsvilla X3 Golden Opportunity Task Winner
Azma chose Aditi and Jay. Vyomesh chose Bhoomika and Avantika. However, Azma will challenge one girl from the Golden villa. Hence, Azma chose Kat Kristian. Vyomesh challenged Dhruv. Dhruv chose Riya and Janvi as the two girls to perform with him.
The task started off on an interesting note. The guys scratched the cards with their butts while the girls swung theirs across the card. Kevin joined the battle with Kat and Samrudhhi. However, Vyomesh and Kevin landed on the same card. At the end, Kevin got the card.
Azma challenged Dhruv in the next round. The girls ate the cake while the guys got the birthday bumps. Team Dhruv won the cake eating challenge and hence he earned a point.
Team Kat won the task with 9 points. Dhruv came second and Vyomesh came third.
Splitsvilla 13 Elimination
The fate of Riya hangs in thin air. It would be interesting to see if Shweta or Riya will be eliminated in the upcoming week of Splitsvilla X3.