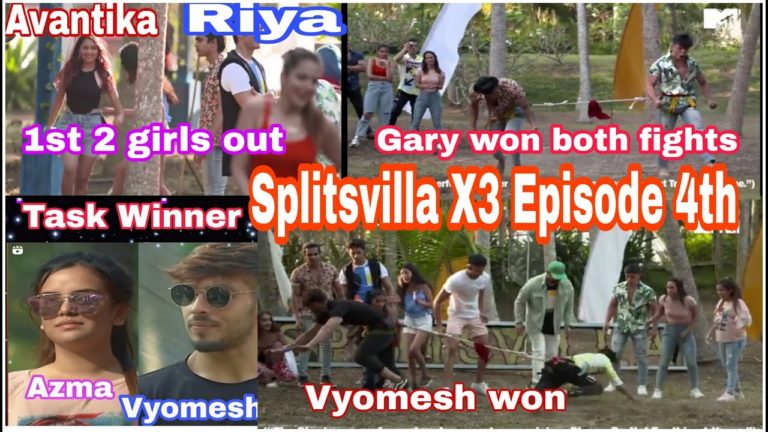 Splitsvilla X3 is back this weekend with its fourth episode. The grand premiere of Splitsvilla 13 introduced the sizzling girls and guys of this season. The third episode triggered fights and drama inside the villa. However, the limelight was on the Silver connection task and Bhoomika's exit into the Silver villa.
Splitsvilla X3 27th March Episode 4 Highlights – Silver Connection Task Updates
The 'Silver connection' task was a chance of girl and guy to win the chance to become an ideal match. However, the road to success involves a huge competition. The girls will hug onto one guy when the music stops. The girls
Avantika and Riya were eliminated in the first round. They chose Samarthya and Jay Dudhane for the tug of war. The well-fought tug ended up in Samarthya's favor. The whole villa was amazed by his stellar performance.
Avantika and Riya chose Samarthya and Jay – Jay won the tug of war.
Janvi was the next girl to be eliminated from the 'musical hug' competition. The much-awaited face-off between Shivam and Vyomesh took place. Janvi set it up. The fight started off on an even note but Vyomesh was in a commanding position and hence he won it.
Vyomesh defeated Shivam in the tug of war. 
Gary and Trevon entered the tug of war and Gary won it with ease. Nikita was the next girl to be eliminated. Nikita surprised everyone by choosing Gary and Dhruv, who was her connection. It was a clear indication that Nikita was playing the game. Gary won the task with ease.
Samruddhi was the next contestant to be eliminated. Vyomesh and Samarthya performed in the tug of war.  However, Vyomesh proved he is the best in the tug business.
Gary and Vyomesh were the last two guys. There is no more tug of war. Azma, Arushi and Shweta were the top three girls. These three girls were in the dumping zone. Shweta was the next one to be eliminated. Hence, the ultimate finale ended up with Gary's disappointing removal.
Splitsvilla X3 Broken Connections
Azma and Arushi were fighting for Vyomesh. Azma surprised everyone with her victory. Hence, Vyomesh and Azma Fallah were the winners of the 'Silver connection'. Arushi and Vyomesh fought after the task. Avantika's emotions will work against Gary's prospects. However, the broken connections will hurt Dhruv and Shivam. Shivam was reaching out to Nikita predicting a fall in a relationship with Riya.
Shivam got into trouble as Nikita informed about Shivam flirting with her.
Splitsvilla 13 Elimination
The fate of Riya hangs in thin air. It would be interesting to see if Shweta or Riya will be eliminated in the upcoming week of Splitsvilla X3.