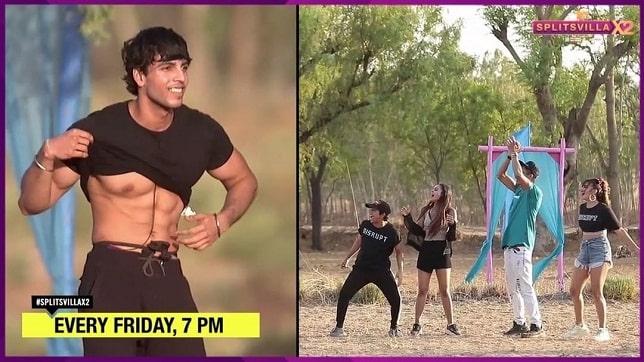 Splitsvilla 12's episode on the 13th of December starts with a recap of the previous episode. Aahna and Bhavin got dumped last week. Let's continue with what was left last week, where we saw an intense Bae Watch Session which will be continued.
Splitsvilla 12 Bae Watch Session December 13th Episode Results
The Bae Watch session continued from the previous week's episode. The questions posted by Sunny and Rannvijay were witty and triggered a lot of chaos.
Question 1:
Who is an attention seeker?
Bhavya pours on Loka.
Bhavya and Loka get into a heated argument.
Miesha pours on Loka.
Miesha confronts Loka and gets emotional while talking to him.
Aradhna pores on Bhavya.
https://www.instagram.com/p/B6ARt-blBZV/?utm_source=ig_embed
Bhavya and Arshiya Lock Horns as Villa is on the Boil!
Things get heated up as Arshiya charges towards Bhavya to physically attack her. Contestants stop the fight. Bae Watch Session abruptly comes to an end. Rannvijay declares that least amount of cow dung has been poured on Sambhav and Soundarya. Due to this they get an advantage in next Test Your Bond Challenge. Ashish and Miesha also get a power, where they can put a disadvantage on any couple in next Test Your Bond Challenge as they had the least amount of cowdung on themselves.
https://www.instagram.com/p/B6Ae-RZl1BD/?utm_source=ig_embed
At the Villa, Uday is seen clarifying what Piyush had said to him at the Bae Watch Session. Ashish interrupts and says something, which makes Piyush angry. Arshiya and Ashish have a verbal banter between them. Piyush gets hyper and picks a wooden pole to hit Ashish. Rannvijay comes in between and takes Piyush away.
Splitsvilla 12 Test Your Bond Challenge December 13th Episode Results
Priyamvada reads the scroll in which Rannvijay mentions that other contestants who don't have a match yet, should buck up. The contestants reach the task location. Rannvijay explains them the task. The task name was Pyaar Ka Laddoo.
Performers in the task are as follows:
Piyush and Arshiya
Loka and Hridya
Sambhav and Soundarya
Shrey and Priyamvada
Splitsvilla 12 Test Your Bond Challenge Task Details
The male contestants had to impress Sunny Leone with their dancing moves. Once she is impressed, they can move forward. Then they had to put as much rings as they want to eat Ladoos.
The equation was that if they put 3 rings, they had to eat 5 Ladoos. If they put 5 Ladoos, they had to eat 10. The contestants had to row a fixed rowing cycle while eating those Laddoos.
The Ladoos had Badam between it. They had to collect those Badams. The twist was that the Ladoos were of Methi and Mirchi.
The Chosen ones had to chose who will compete against each other. Ashish and Miesha after discussion chose the following pairs-
Piyush and Arshiya vs Loka and Hridya.
Sambhav and Soundarya vs Shrey and Priyamvada
The total task will be of 15 mins. Sambhav and Soundarya get an added minute extra as they had earned an advantage. Loka and Hridya will get one-minute minus from their allotted time as part of their disadvantage.
https://www.instagram.com/p/B5-IM1rBt_2/?utm_source=ig_embed
Loka impresses Sunny with his dance moves. They first put 3 rings and start eating the Mirchi Laddoos. Loka is quite impressive as he eats around 5-6 ladoos. Hridya, on the other hand eats only 1-2. Hridya pukes during the task while Loka controls himself.
Piyush puts 10 rings at the start. He and Arshiya start with Methi Laddoos. Both of them give their best during the task.
Next up were Sambhav & Soundarya and Shrey & Priyamvada. Shrey and Sambhav stun the other contestants with their dance moves. Soundarya is quite impressed with Sambhav's dance moves. Sunny gets impressed with Shrey and sends him first. They both as a couple had already decided that they shall put 3 rings. They start with Methi Laddoos.
Sambhav and Soundarya out of nowhere catch them up in the task. They put 5 rings and start with Methi Ladoos as well. During the task, Priyamvada perfoms well and is seen cheering up Shrey. Sambhav and Soundarya perform really well as a couple.
Splitsvilla 12 Test Your Bond Challenge Results
Loka and Hridya collect 8 Badams
Piyush and Arshiya collect 7 Badams.
Shrey and Priyamvada collect 12 Badams
Sambhav and Soundarya collect 16 Badams.
Piyush & Arshiya and Shrey & Priyamvada are in the dumping zone. Bhavya, Hridya and Miesha argue amongst themselves. The winners of this task get gifts from Vega Hairstyling Appliances. The show comes to an end. Tune into Splitsvilla every Friday at 7pm only on MTV.