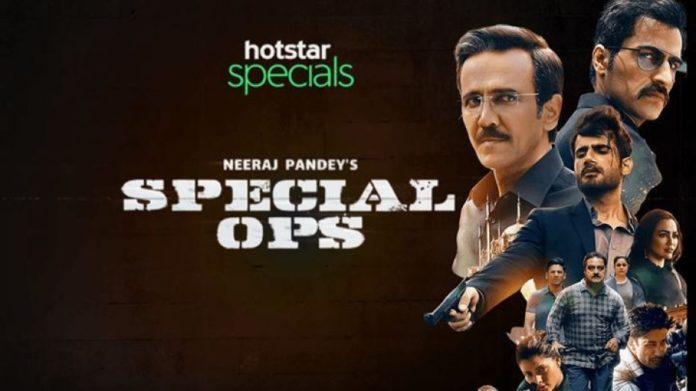 Hotstar's first original web series will be Special Ops directed by Neeraj Pandey. The upcoming Hotstar series is an espionage thriller. The headman of this thriller series is none other than the director of Special 26, A Wednesday, Baby, M.S Dhoni and Aiyaary, Neeraj Pandey. The series began streaming on Hotstar from 11th March 2020. It is  available in an array of languages from Hindi, Tamil, Bengali, Malyalam, Marathi, Kannada and Telugu.
The trailer created a lot of noise for the series with its gripping intensity. 12 hours prior to the release, Special Ops released a second trailer which was dripping with action and eye gripping suspense. And the show lived upto the gripping pace the trailer set.
The writers are Neeraj Pandey, Deepak Kingrani and Benazir Ali Fida. The international locations include Turkey, Azerbaijan and Jordan.
The cast is stacked with Vinay Pathak, Divya Dutt, Karan Tacker, Saiyami Kher, Muzammil Ibrahim, Meher Vij, Vipul Gupta, Sajjad Delafrooz, Parmeet Sethi, Gautami Kapoor, Sana Khaan, Sharad Kelkar and KP Mukherjee. Special Ops has become immensely popular ever since season 1 began streaming on Hotstar.
Fans are eagerly awaiting for season 2 of the show already. The confirmation of the renewal is yet to come.
Special Ops Season 2 Trailer
The two minute trailer of Special Ops deals with the 2001 Parliament attack in India. Himmat Singh figures that there is a pattern between these terrorist attacks and he takes it upon himself to formulate a team that would bring this to an end.
Neeraj Pandey is known for his terrorist hunting movies and he takes it a notch higher as he forays into the world of web series.
The trailer of season 1 begins with a recreation of the 2001 terrorist attack on Parliament of India. RAW agent Himmat Singh strongly believes there was a sixth terrorist who was the mastermind behind the five.
It then runs through Himmat's team: Farooq has been in the UAE for a decade, Ruhani, Avinash, and Balakrishna are experts in close-quarters combat, and Juhi is a silent assassin.
Later, Farooq claims he's found Ikhlaq Khan, to which Himmat says he wants him dead no matter the collateral damage.
No trailer of Special Ops season 2 has been released as yet. Until the season 2 trailer is dropped, watch the trailer for Special Ops Season 1:
Special Ops Season 2 Plot
The series Special Ops follows the journey of Himmat Singh, an officer of the Research and Analysis Wing. Himmat draws comparisons and links patterns within different terrorist attacks. He strongly believes that there is one person backing the terrorist attacks.
His task is to create a team of five agents who will be in different parts of the world, their sole aim being to catch the mastermind behind all the attacks. The inspiration of the story is the backing of nineteen years worth of significant national events.
The eight episode series starting with the 2001 attack on Indian Parliament, the show goes back and forth in time covering several other events including 26/11, Kashmir terror attacks amongst others; and the chase for the single mastermind behind these attacks – making it the longest manhunt in Indian Intelligence for India's deadliest enemy.
RAW agent Himmat Singh goes on a 19 year manhunt for a terrorist called Ikhlaq Khan, who only exists in Himmat's eyes, according to everyone around him.
Special Ops Season 2 Cast
A Neeraj Pandey cast is selected with great precision. Each actor portrays the role will power and finesse.
The cast of Hotstar Special Ops include multi-talented actors such as Himmat Singh played by Kay Kay Menon, Chaudhary played by Anuj Sharma, Farooq Ali played by Karan Tacker, Surya played by Sharad Kelkar, Bala played by Vipul Gupta, Mr. Chadda played by Parmeet Sethi, Hafiz Ali played by Sajjad Delafrooz, Sonya played by Sana Khan, Abbas played by Vinay Pathak, Avinash played by Muzammil Ibrahim, Sadia Qureshi played by Divya Dutta, Juhi played by Saiyami Kher and Ruhani played by Meher Vij.
Special Ops Season 1 Review
One name that you resonate when you think about fantastic Bollywood thrillers is Neeraj Pandey. He has created films like A Wednesday, Special 26 and Baby which blew away the audience with its narrative technique and streamlined process.
Special Ops has been co-written by this wonderful director alongside Deepak Kingrani and Benazir Ali. He has also co-directed along with Shivam Nair. But what Pandey makes sure is present in his works other than brilliant plots is the stellar cast, Special Ops has marvelous performances coming from each actors.
Kay Kay Menon is fantastic as an officer who doesn't lose his calm even in the hardest of times. He is also a protective and at times an overtly protective father of a teenage girl and a loving husband. Menon's expressions go from soft to intense within seconds and it is a delight to see him on the screen. He as always steals the scene with the splendor and magic he manages to weave onscreen.
Karan Tacker does a fine job as agent Farooq and looks dashing throughout the series. He is spectacular find by Pandey. Tacker has developed brilliantly as an actor since his television shows and it shows as he does wonders onscreen.
Others including Vipul Gupta, Muzammil Ibrahim, Saiyami Kher, Meher Vij, Divya Dutta, Vinay Pathak and Sharad Kelkar do full justice to their roles.
Special Ops Season 2 Release Date
As per sources Special Ops will be renewed for season 2 as it was well received by the audience. It should release in 2021 if all goes well but considering it is shot across various countries it could take time through production and post-production process.
How to watch Special Ops Season 2?
Special Ops Season 2 is a Hotstar Original Series. Special Ops has only been streaming on Hotstar. Hotstar has the rights for streaming this web series directed by Neeraj Pandey. Since the first stream streamed solely on Hotstar, it will be the same for the second season. To watch Special Ops Season 2, follow the next few simple steps:
Download Hotstar on your phone or browser (Subscribe to Hotstar VIP in order to watch Special Ops)
Login into your Hotstar account
Search for Special Ops ( Watch Special Ops Season 1 until Season 2 is released)