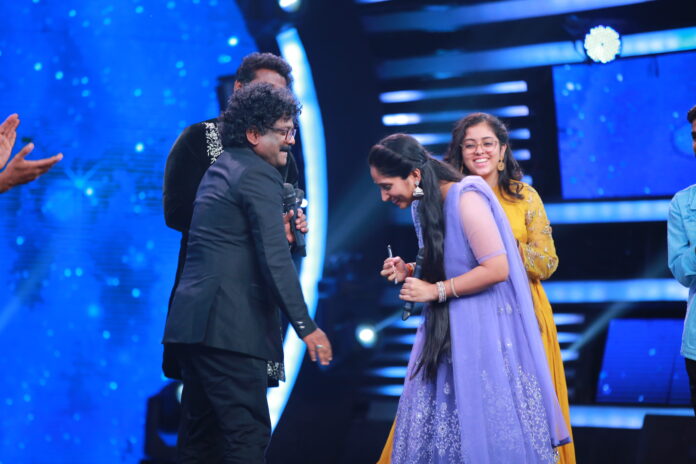 Hyderabad,16th April: Music retakes centre stage as aha Telugu Indian Idol 2 delivers another unforgettable episode. As a special guest, Oscar-winning Telugu lyricist Chandra Bose joined the Top 9 contestants and the audience in celebrating the power of music.
The episode was a true showcase of the talent and passion of the contestants as they performed some of the most iconic Telugu songs of all time. But Soujanya Bhagavathula ultimately stole the show with her powerful rendition of "Pedave Palikina Maatalone" from the Nani. She was awarded the ultimate prize for her incredible performance–the pen Chandra Bose used to write the lyrics for his Academy Award-winning song "Naatu Naatu".
Reflecting on the experience, Soujanya expressed her gratitude to the judges and fellow contestants, saying, "I am so honoured and grateful to receive this pen from Chandra Bose, sir. It is a dream come true, and I am excited to continue pursuing my passion for music and make the most of this incredible opportunity."
Chandra Bose, who has been a guiding light for the Telugu music industry for decades, also shared his thoughts on the episode, saying, "I am thrilled to be a part of aha Telugu Indian Idol 2 and to see an amazing talent that the Telugu music industry has to offer. Soujanya's performance was outstanding, and I am confident she will continue to create magic through her music."
aha Telugu Indian Idol 2 continues to be the premier destination for music lovers across the country, offering a platform for budding artists to showcase their talent and connect with their audiences. With its powerful performances, heart-warming stories, and unparalleled musicality, the show is a testament to the enduring power of music to bring people together and inspire greatness.
To know more about Soujanya's journey on Telugu Indian Idol 2, watch all episodes only on aha!