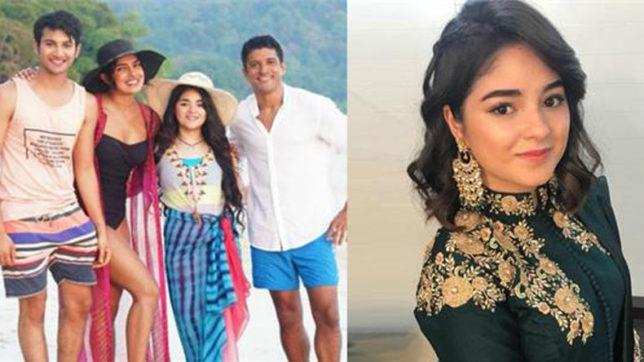 Some people on social media claimed that former actress Zaira Wasim is back in films. Two photos of her have been shared on social media with this claim. In one photo, she is seen wearing a burqa and in another photo she is seen at the beach with Priyanka Chopra and Farhan Akhtar.
Social media went berserk as her memories of Zaira's famous social media post saying" Acting was coming between me and my religion. 9 September 2019: No religion bigger than money No. "This post was shared by some and its archived version can be seen.
Similarly, some people claimed the same on Twitter . In response to this tweet, social media users have been writing things ranging from "First someone may have come under the influence of Maulana" to "This is just drama girl". More people have made similar claims on Facebook .
Truth Behind Zaira Wasim's News Revealed
This photo was actually taken during the shooting of the film 'Sky is Pink' i.e. before Zaira's retirement from Bollywood.
Bidding goodbye to the beautiful island! It's been a great week in the Andamans. Sea you soon 🎬 #AmazingAndamans #HavelockIsland #TheSkyIsPink@RSVPMovies @priyankachopra #ShonaliBose @FarOutAkhtar #SiddharthRoyKapur @ZairaWasimmm pic.twitter.com/cgYW4VjWKw

— Roy Kapur Films (@roykapurfilms) March 9, 2019
It is found that Zaira had announced to quit films on June 30. At that time, she had shot for the film "Sky is Pink". In which Priyanka Chopra, Farhan Akhtar and Rohit Saraf are seen with them. A similar photo surfaced on the social media of all these artists, which was much before June 30.
https://twitter.com/maneeshfilmdir/status/1171021920961097728
Actually 'Sky is Pink' was Zaira's last film, after this Zaira has not done any film. All the people associated with this film are currently in Canada for Toronto Film Festival.