Beardaments Beard Ornaments one of the products to be featured on Shark Tank Season 11 Episode 9. The story behind the birth of Beardaments Beard Ornaments, one of the newest christmas product companies is pretty interesting. Here are some of the unknown facts about Beardaments and its founders, Jason McOmber.




Who is the Founder of Beardaments?
Jason McOmber is the founder of Beardaments. Jason McOmber is the Director of Sales, AT&T for Business since July 2014. Jason founded Beardaments in the mid of 2015 and is successful ever since in selling ornaments and decorations for beards. Jason graduated from the Weber State University and has a degree in technical sales.
The Story of Beardaments Beard Ornaments
Jason was at an ugly sweater party in Salt Lake City, Utah during the Christmas season. People enjoyed their eggnogs and began clipping cool stuff in Jason's beard. This gave Jason the 'Eureka' moment to start Beardaments.
Ever since, Jason's Beardaments is focussed on popularizing the concept of 'leave no beard undecorated' during the holiday season.
Beardaments has decorated more than 100,000 beards and is growing well.
In 2017, a couple dudes decided to put glitter in their beards and the video went VIRAL.  Beardaments received over 100 million views online and was featured across the internet including Cosmopolitan, Diply, VT, Good Morning America, and UNILAD!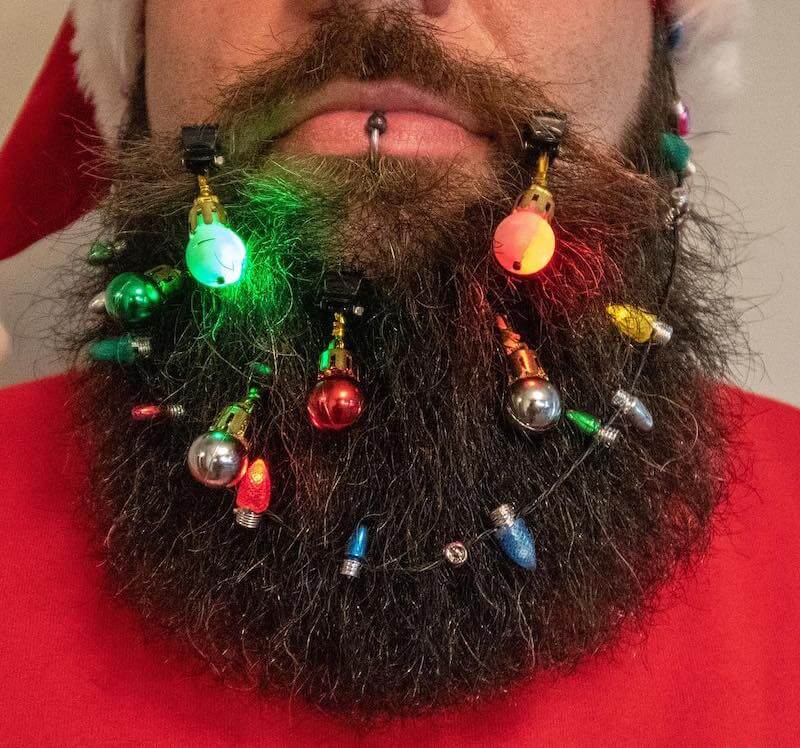 Beardaments Beard Ornaments Product Range
Beardaments has a lot of unique products with a viral potential.
Beardaments product range comes in 3 different collections or sizes:
Light Up Ornaments 
Beard Glitter kits
Beardaments Light Package – 6 lights – 3 Red and 3 Green and 10 original ornaments – 3 red, 3 green, 2 silver and 2 gold.
Beardaments glitter kits come in green, red, silver and gold. This leaves your beard with a touch of shimmer and glimmer. Beardaments also has an oil in its product range which is applied before applying the glitter. The oils are natural and organic.
Apart from beard decorations, Beardaments also ventured into the merchandise part of the business with T-shirts and caps with quotes like "I'm a Beardo" and "I'm With Beardo" and "Make Beards Great Again".
They can be bought directly from their online store.Beardaments are also sold on Amazon
Beardaments Reviews
Beardaments are receiving a lot of exciting reviews online. However, the price range is between $9.99 to $34.99
Beardaments Shark Tank Sale
No offers are currently available.
Did Beardaments Get A Shark Tank Deal?
How did Beardaments fare in Shark Tank Season 11? What did the Sharks have to tell about it? Did Beardaments Beard Ornaments Get a Deal on Shark Tank? More information to be updated soon in this post.