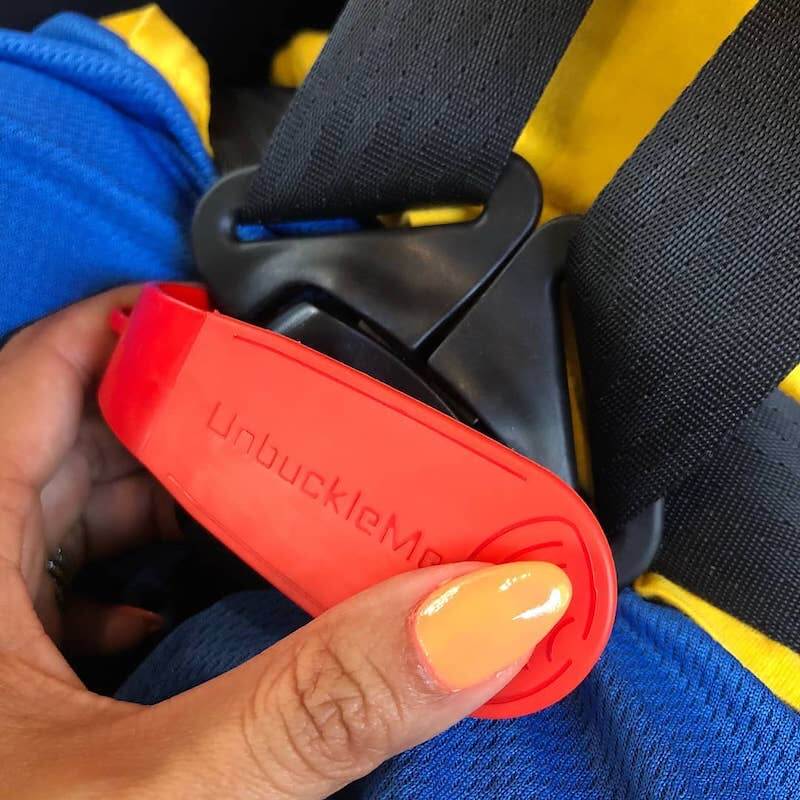 The biggest worry that parents have when it comes to travelling is the safety of their child. Their biggest aid during such a time are car seats. The American Academy of Pediatrics has stated that with the proper use of car seats there is a decrease in mortality by 71% in children who fall under the age group of younger than one year and a total of 54% in children from the group of one to four years of age.
Getting a child into a car seat can prove to be a problem most of the time because children do not like the restriction but there shouldn't be a problem to get a child out of the car seat. But that is a common misunderstanding.
Many people have a difficulty in releasing the button on the car seat. U.S. motor vehicle safety regulations require these buckles to have a minimum release force of nine pounds to prevent children from unbuckling themselves during travel. While this is a logical requirement, anyone with arthritis can encounter a serious struggle trying to release the buckle.
Founder of Unbuckle Me Child's Car Control
Barbara Heilman is a Licensed Occupational Therapist, Barbara had experience adapting equipment for use by patients with hand and finger difficulties, and she started working on a solution when she was unable to remove her granddaughter from the car seat efficiently due to her arthritis.
Her daughter Becca Davison had earned an MBA from NYU Stern School of Business, and was working in the corporate world. She had always wanted to be an entrepreneur at the back of her mind. She wanted to start her own business when she felt she had a strong business idea at hand. While this was in thought she continued being in the corporate world.
When she saw the tool her mother made it was a god sent message for Becca Barbara had created and saved over 100 prototypes and she and Becca spent six months working with engineers to create the computer-aided design necessary for manufacturing.
Finally having an acceptable prototype in hand, they filed for patents in 2016. The utility and design patents were granted in early 2019.
Story of Unbuckle Me Child's Car Control
In 2015, Barbara Heilman became a grandmother when her daughter, Becca Davison gave birth to a baby girl. Barbara was beyond glad that she would be the one taking care of her granddaughter when Becca went back to work.
But what Barbara didn't consider was her arthritis. She had great difficulty in releasing the seat buckle due to the arthritis in her thumb. There was no use shopping for a new car seat as it would be unsuccessful. All car seats are subject to the safety requirements for buckle release.
By then Barbara's biggest concern was whether she would be able to release her granddaughter from the car seat, particularly in an emergency situation. She became extra cautious and reluctant to take her granddaughter anywhere by car. This but naturally limited the activities she could indulge her granddaughter in especially as she grew older, bustling with energy and way more active.
Barbara used thermoplastic material commonly used in making splints, she created a tool designed to reduce the amount of force needed to release the car seat buckle.
Feedback for Unbuckle Me Child's Car Control
In October 2016, UnbuckleMe attended the ABC Kids Expo in Las Vegas and received outstanding feedback on the early prototype. In 2017 a Kickstarter campaign exceeded its original goal, raising $12,844 from 343 backers.
In 2018, Becca became certified as a Child Passenger Safety Technician (CPST) as her commitment towards educating parents and promoting child safety was increasing rapidly and in the right direction.
By 2019, UnbuckleMe was being sold in numerous retail outlets, on Amazon and through social media. Nordstroms invited them to their annual Gear Summit in Seattle in June and they attended the National Child Passenger Safety Conference in August.
On October 19, 2019, UnbuckleMe announced they had reached 768 Amazon reviews with a solid 5 star average, and later that month gained their first corporate sponsorship from AAA of Texas.
Inventors Digest featured UnbuckleMe in a December 22nd article entitled "Frustration Unlatched," in which Reid Creager reported that the device also works well on strollers and high chairs. Plus point for the ladies, the device was well versed with protecting those long fingernails or expensive manicure.
The beauty of is that it decreased the force needed for unbuckling by about 50%. The device has been manufactured in the US, has been tested and passed for lead content and is BPA free.
UnbuckleMe can be purchased through their website, on Amazon, at major retail stores such as Nordstroms and buybuyBaby as well as hundreds of independent shops throughout Canada and the United States.