With globalization getting the world together and putting it into a screen before you, it is important to be able to be at the same level with the changes that constantly occur. Children are way more advanced when it comes to technology and they adapt to these changes better than others.
Children also need to learn to use the computer to get the best from their education. For this they need to know how to use a search engine for research, find helpful tutorials and get the necessary online assistance as well as communicate with others. Some will need to use it to write papers while others to complete school assignments.
For this to be done the children need to have an early foundation which is strong in computer literacy to become more proficient with the times and for a future at their fingertips.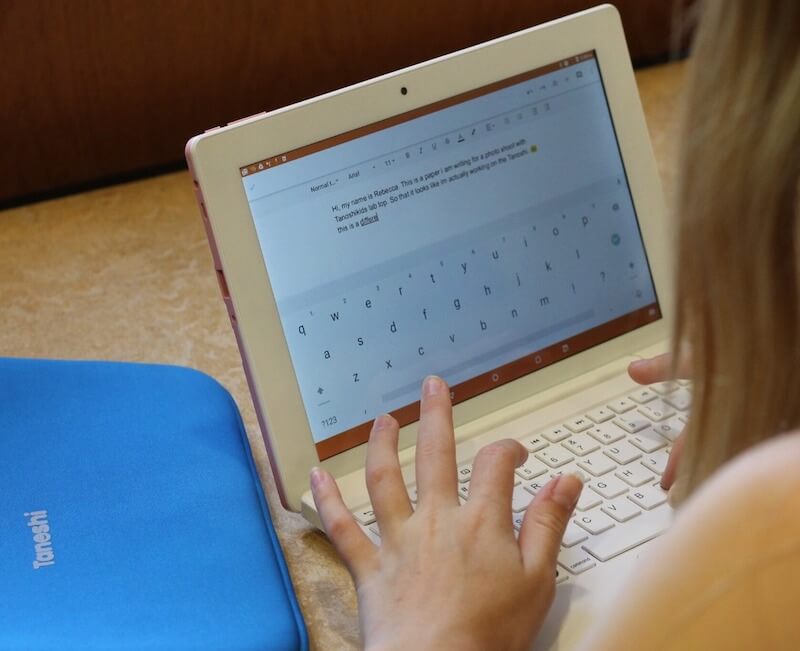 Founder of Tanoshi Kids Computer
Brad Johnson, Lisa Love and Greg Smith founded Tanoshi and created the Tanoshi 2-in-1 Kids Computer for children from ages 6 to 12 with features for both children and parents. Tanoshi Kids Computer started off as a small Silicon Valley based startup. The founders and employees all boast of tremendous IT experiences from high tech companies including Google, Apple and Hewlett-Packard.
Brad Johnson is the CEO of Tanoshi. He has earlier worked for Vizio and Toshiba and consulted with startups and Fortune 500 companies on marketing strategies. He has a degree in political economics from the University of New South Wales one of the most prestigious international research university.
Lisa Love is a total freak when it comes to marketing. She has a degree as a marketing strategist from Cornell University who co-founded Bing Note, developer of products that instill in children a love for learning and creator of "ABC's With Bingzy Bee," the first animated app for teaching the letters and sounds of the alphabet.
Greg Smith has earlier been as associate for CISSP, which a globally recognized certification for IT professionals. He has been a software quality assurance engineer for Northwest Evaluation Association whose software tests students to determine when they stand academically, for Beyondsoft and for Hewlett-Packard printers.
Story of Tanoshi Kids Computer
Every family does not possess a designated laptop for every member. For some families where a laptop is necessary they share with one another as and when needed while there are other families who are unable to afford a laptop.
To bridge the gap between these two as well provide a path to progress from toy computers to much more advanced versions, the founders of Tanoshi Kids Computer Brad Johnson, Lisa Love and Greg Smith founded Tanoshi and created the Tanoshi 2-in-1 Kids Computer for children from ages 6 to 12 with features for both children and parents.
That's not all, the Tanoshi 2-in-1 is a computer that converts to a tablet. It is a perfect blend of fun and educational purposes. What adds to its innumerable advantages is that it is affordable at less than $200.
Kids are able to play games on the computer but they also have the ability to enhance their computer skills, investigate areas of interest, and connect with relatives and friends. The software available is advanced and gives the child all they require to complete school assignments and write papers. They can even practice their spellings.
Features of Tanoshi Kids Computer
Some of the major features that tag along with Tanoshi Kids Computer are:
• 10" Detachable Touchscreen,
• Detachable Ergonomic Kid-Size Keyboard,
• Installed Google Suite: Docs, Sheets, Earth, Gmail,
• Installed Educational Apps, including a fun introduction to coding,
• Millions of apps and games available in the Google Play Store, and
• Front and rear facing cameras.
What gets the parents happier is that they have a no fuss guide which helps them get the computer up and running. They are also equipped with parental controls which give them a huge advantage.
Some of the pros of the parental control are:
• Manage children's screen time,
• Set time limits and remotely lock the computer,
• Set the computer's "bed time,"
• Keep track of time spent on any one specific app,
• Block websites,
• Approve or deny purchase of apps, and
• Turn Photo Sharing on and off.
The plus point is that parents have the ability to adjust the features on an individual basis to give the children more space to grow as they mature. The Tanoshi 2-in-1 was chosen as "Best Laptop For Kids," by Mashable, which is a global, multi-platform media and entertainment company.
Currently,it is already used by thousands of children worldwide. Tanoshi has partnered with iFoster, a national non-profit organization, in providing foster children with computers to give them an equal opportunity in our computer-driven world. This gives every child a fair chance at a healthy growth and development.