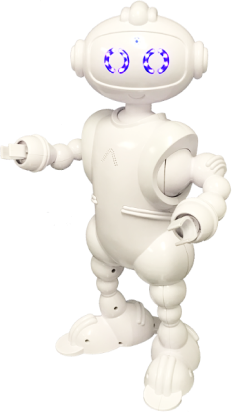 Education system has always banked on two main elements which contribute to good learning- teachers and parents. The founder and CEO of Van Robotics, Laura Boccanfuso is well aware of this fact. But while others sit on this fact Boccanfuso is also of the fact that teachers and parents require help as well.




Every child has a different learning style and they need varying amounts of time and attention to achieve the set educational goal. All the children do not head towards a common goal within the given time frame, some could be slow while others faster. Schools have a standardized curriculum which doesn't give the right amount of time and attention to each child. Teachers struggle to meet the needs of numerous students in all classroom, all who are varied style learners.
Founder of Abii Educational Robot
Robot Laura Boccanfuso prior to establishing Van Robotics earned an MS in Computer Science from Bowling Green State University as well as a PhD. in computer science from the University of South Carolina. Ever since then she had had inkling towards artificial intelligence and human computer interactions. She had a keen interest in enabling students to engage with their new materials.
Earlier she worked as a researcher for Yale University and during her time there she learned the most effective methods involved continual monitoring and adapting to individual stress level, and that this is especially important for children on the autism spectrum, or who have ADHD or other developmental issues.
Story of Abii Educational Robot
Knowing that children have their own pace in achieving educational goals is very important or the child feels pressurized to perform at par with their peers. Many school districts have incorporated the new technology that Boccanfuso has created. This is done to enhance the students learning experiences. But most standard technology and the accompanying software is not sophisticated enough to gather information necessary to adapt to the individual student's learning preferences. That is when Abii comes into the picture.
Abii is a small robot who is the teacher's aide. Abii delivers grades 2-5 core subject instructions by engaging the students with loads of fun, social interactions which are specifically designed to involve individual academic achievement. Van Robotics was established back in 2016.
Post which Boccanfuso has developed around eight prototype robots with 22 math lessons. But it was not until early 2018 that they launched their first pilot program in schools around Alabama, Kansas, New York and South Carolina.
Seed money was provided through Tech Stars Austin, South Carolina Research Authority, and Right Side Capital Management, totaling $1 million during the period January 2018 through June 2019. On January 27, 2018, Van Robotics was chosen as one of ten companies for the Techstars Austin 2018 accelerator, and The Tech Tribune named it as one of the very best tech startups in South Carolina in 2020.
Feedback on Abii Educational Robot
The amount of hard work put into creating Abii is only known by Boccanfuso and her team. The company conducted a huge amount of research to create ABii's design and appearance. What came as a surprise was that the younger children really dug the retro look. In an interview with Michelle Kung, from Amazon, Boccanfuso stated that when she and her team asked the children what they thought the robot would look like. "humanoid it was not!"
ABii is a fusion of a modernized version of the old robots with big circular purple eyes, a white oval head and "claws" instead of hands. Features of Abii Educational Robot The beauty of ABii is that it is very simple to operate and just the needs a desktop computer or a laptop at proximity. A mobile phone will be too small for this.
The first step includes teachers inputting the information within the system based on each student who will be using ABii. The program begins with an individual student being led through a customized program with a specific lesson, testing the student's knowledge and making a final assessment. ABii is designed to learn individual behavior patterns by noticing stress levels or waning of attention. Abii is able to respond by offering a game to play or a short break.
ABii has the ability to teach both individuals as well as small groups. Unlike some other robotic devices, ABii is rather anthropomorphic, she is designed to have a unique and engaging personality who will sing and dance along with the students thus engaging them and enabling them to have fun as well.
Boccanfuso emphasizes that due to ABii's unique abilities, the student's individual paced its patched upto. It follows each students unique learning patterns, and this makes ABii one of the most effective educational robots available. Boccanfuso even quoted a study that emphasized on the fact that students who used robot tutors improved their test scores by 52% in comparison to 39% for students who did not use a robot tutor.
But the buck does not stop there, ABii has a set of virtual friends of her own which includesWanda, Mario, Jolt, Vee, and Url. They help make the learning experience fun and exciting. According to the website description of these friends, Mario has a pizza parlor, but can't do fractions, and Wanda travels around the world, but can't figure out currency conversions. An interesting take to keep the students entertained.
As of now ABii contains for 2nd-5th grade math and a reading curriculum for K-2nd will be released in the Fall of 2020. ABii is very low maintenance and automatically updates her software, including any new lessons, behaviors and user information. If needed teachers are also able to update as and when they need.
Boccanfuso in an interview with Holly Beilin of Hypepotomus said, "It's not a nice ornamental object ….It's really involved in the entire learning process." Boccanfuso's goals is to build versions of ABii that can be used in after-school programs and in hospitals with patients suffering from Alzheimer's or dementia.
The software program for ABii is available for both home use with a flat hardware fee and monthly subscription service.