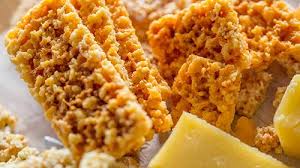 If there is one favorite go to meal for every kid to choose from it would have to be a grilled cheese sandwich. The delicacy is every household's favorite and what makes it even more special is that no one can get enough of it. Just The Cheese was an idea that was developed over a memory of crunchy cheese that David Scharfaman carried with him.
David loved crunchy cheese but it was only after he ate a bag of cheese snacks in New York that he realized he could turn his favorite boyhood memory into a 100% natural snack. Just The Cheese is suitable for all diets and serves people who have specific dietary needs.

Founder of Just The Cheese Snack Bars

Like all other children, David Scharfman was a lover of grilled cheese sandwich as well. But what really got the attention of his taste buds was the crunchy cheese element which he attained from the edges of the sandwich. David asked his father to make crunchy cheese so that he didn't have to wait back for the edges of a grilled cheese sandwich everytime. He relished crunchy cheese.
To his luck, this father Paul is a Wisconsin based cheese maker. He found it in his alley to create a crunchy cheese snack for young David. At a trade show, his father gave out the crunchy cheese snack and it did sell for a bit before falling by the wayside.
             

Story of Just The Cheese Snack Bars

Years passed by and David went off to college. He first attended the University of Wisconsin for a degree in political science and Chinese, then to the University of Virginia for an MBA. He further went on to venture away from Wisconsin and moved to China and the Philippines. He was working in both the cheese industry as well as the gaming industry. He finally settled down in New York City as a financial consultant.

It was in New York that David and his wife Connie picked up on a bag of cheese snacks. David reminiscence the crunchy cheese snack of his childhood. He had a gut feeling that he would be able to make a better cheese snack which would also be 100% natural.
David and Connie left New York City and shifted back to Wisconsin. There they launched Just The Cheese along with his father, Paul. The 100% Wisconsin cheese is handmade in the family-owned factory, shredded, crumbled and baked.

Types of Just the Cheese Snack Bars

1. Just The Cheese bars come in Aged Cheddar, Mild Cheddar, Grilled Cheese and Jalapeno Cheese.

2. Just The Cheese minis come in Wisconsin Cheddar, White Cheddar, Grilled Cheese, Garlic & Chive and Jalapeno.

The Wisconsin Cheddar minis gained recognition and a broader audience when it won first place in the snack cheese category of the World Championship Cheese Contest held in Madison, Wisconsin in 2020.

The specialty of Just The Cheese snacks is that they are free of nuts, sesame, soy, egg, wheat and gluten. With less than one gram of carbohydrates, they fit right in with low-carbohydrate, keto and Atkins diets. This becomes immensely helpful since in the modern day world people have become particular about their intake of cheese considering it could be a fattening element.

Just The Cheese are vegetarian and diabetic friendly and have as much protein (8 grams) as a cup of milk. This makes it a healthy option. They do not need to be refrigerated and the special packaging gives the bars a shelf life of 9 months, the minis 12 months. This makes them long standing which is helpful considering they can be stored for a long time.

Just The Cheese snacks fall under two main categories; firstly they are a sensational grab-and-go which makes it easier for a consumer to eat when hungry or in a haste but they also make marvelous dips, snazzy crackers on a custom charcuterie board, and gourmet crumbles for soups and salads.

Many people have an array of dietary restrictions. David and Connie make it a point to support organizations that serve that section of society. Organizations that they work for include the Juvenile Diabetes Research Foundation and the Celiac Foundation.

David's father Paul had earlier bought an old abandoned high school and turned it into his headquarters. By doing this he not only gave new life to an old dusty building but also to the community at large. The Scharfmans honor their family tradition of helping the surrounding community. The Scharfmans also provide an economic lifeline to the local dairy farmers. This comes as a huge aid to the farmers. Since Just The Cheese sources around 70% of their milk from farms within a 30 miles radius.

They also donate Just The Cheese bars and minis to food pantries that feed the needy and to medical staff and front line workers across the country in appreciation for the long hours they work and their selfless service.