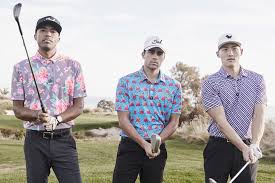 It has been quite some time that golf has been a sport of the elite and mainly men. But times have changed since men wore kilts and animal skins to the golf course. Since then there has been revolutionary changes in the fashion sense of the game which included knickers, tweeds to even suits and ties. But once the 1930's and 1940's began to set in, the golf course eased up with their dress code. It was not until the 1950's that golfers began to wear casual polo shirts which went on to become golf shirts and slacks. This was done owing to the image set by an influential golfer, Arnold Palmer. Today, this sense of fashion has continued with the same casual slacks and golf shirts which come in solid colors and stripes.





Founders of Bad Birdie Golf Shirts
Jason Richardson had a successful commercial photography company. He was well experienced in the world of marketing. He had a degree in marketing from Azusa Pacific University (California) to move out and about with his freelance work. During this time he got the opportunity to work with mega-corporations like Apple, Nike and Microsoft. He has done his bit in television commercials and branded content and an added benefit was that he developed strategies to maximize exposure for these products.
Story of Bad Birdie Golf Shirts
When Jason Richardson was 12 years old he bagged his first job, caddying at a country club in Arizona. Ever since then he was never able to let go of his love for golf. When there was a tournament round the corner, Jason went out to get himself a new golf shirt. That's when it sunk into him that the fashion of golf shirts had not changed since the time of his grandfather. Jason is what you would call spiffy and he wanted his shirt to show who he truly was. Besides, everything else in the fashion world had changed expect for golf shirts which were still stuck in the 1950's and had to take a whiff of the 21st century air. Jason knew that he had to do something. He went back and created a series of designs and patterns which were different from the usual. He even selected the type of fabric the shirts should have. Within a few months he had a prototype ready for testing in the market. He along with a friend wore the shirts to a golf tournament in Scottsdale and the reactions he received from the onlookers were positive. That's when Jason realized he was onto something big. He founded his company, Bad Birdie Golf Apparel. He aimed to produce high quality golf shirts in vibrant colors and patterns so distinctive that they would return style and personality to the golf course.
Variants of Bad Birdie Golf Shirts
Jason's main aim of creating Bad Birdie Golf Apparel was to create and produce the fanciest looking golf shirts. So distinctive that they could be worn both to work as well as to play. Soon even non-golfers began wearing the shirts. The shirts are made in USA. Their key feature is that they are lightweight and extremely comfortable. They are the right fit neither too baggy nor too tight. Sizes are available from small to XXL. The premium, moisture-wicking and breathable fabric, , 100% microfiber polyester, feels as elite as it is. The structured collar and placket keep the shirt looking crisp all day. At the end of the day, throw it into the washing machine for a spin but remember it has to be washed in cold water. You are able to find your favorite shirt whether you are a wildlife lover, prefer the tropics, geometric designs or Southwester US art, you are able to find a shirt of your choice. The apparel gives you confidence that you look good which makes you play better.
Jason is very communicative with his audience and stays engaged through Instagram. He even takes on every opportunity that comes his way to donate to charity golf tournaments in South California.