Sarina Gomez and David Sodemann spent one of their vacations in Maui. Instead of going the traditional way they decided to rent a camper van and explore. When they returned to Arizona they came back with tons of pictures and exciting ideas to make their own camper van. They spread the word to their friend, Brett Ellenson. Brett was as excited as Sarina and David in this project. Brett loved the concept of a van life and was an expert in the properties of metals and the use of metal equipment and optical measuring devices required for furnishing the final product. David has a separate skill set which included problem solving abilities and creativity. He was a design, marketing, branding professional who had founded his own startup. Sarina was the founder of her own business which was successfully operating. All three came together with their own social set of skills mixed with their undying love for being on the road. They united to build, rent and sell luxury camper vans.





Their first van came to a lavish conclusion within six weeks. Post its completion their first renter was on the road the very next day. They went on to make their second van. This time the challenge was that they were not to rent the van but the renter wanted his own van. With this experience in hand, Boho further went on to build and sell custom designed camper vans, each novel among its own kind. The process begins with a one ton commercial van which has to be in a good condition. They usually prefer the Dodge Ram Van 3500 or a Ford E-350. Their distinctive feature is that the metal walls and ceiling are covered with cedar, wood or knotty pine as per preference and need. The floor is covered with wood like vinyl.
Features available in a Boho Camper Van include:
• Full-size bed with storage underneath.
• Small kitchenette with bamboo counter top and sink.
• Outdoor shower.
• 25-gallon water tank that supplies both sink and shower.
• Propane camping stove and cooking supplies.
• 48-inch rear pullout bamboo table for cooking and eating.
• Cooler.
• Privacy curtains.
• Linens and towels.
• LED lights that dim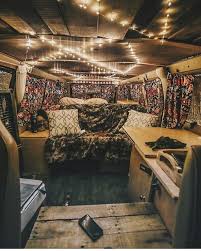 What does a Boho Camper Van include?
The technical aspect of the van is also taken into consideration. The entire system is powered by dual solar panels each of 100 watts. There two 12V batteries and an inverter with AC and USB outlets. The Boho squad has even included swivel seats and tables, propane fireplace, roof vent to a sofa as well as an additional storage unit. They even include a full sized, upgraded leveled out foosball table which comes along with an umbrella for the purpose of shade. They have not hastened their process and they are able to build a camper van in four weeks.
They were able to find a middle ground between standard camper vans and expensive customized conversions. Boho products are affordable and fully functional vans which if the customer wants can be completely personalized as per the flexibility of the customer's budget. They add information on the available campgrounds, nearest sightseeing areas and activities which add to the pleasant experience felt by the customers Boho rents their vans from their Phoenix headquarters near the airport. Sarina and David want to build a 'schoolie' which will be a school bus that will be converted into a travelling home. They want to use this camper van to drive from Alaska to Patagonia. Brett and his fiancée want to travel across the world in a sailboat. Despite the variety in the modes of transportation, they aim to provide comfort with their design due to skills and ideas.