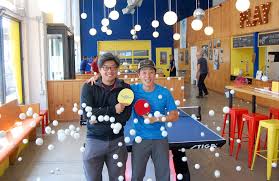 The Jung brothers Michael and Eugene who realized growing up not just as fun went back to what they missed about their childhood the most, Ping Pong! They developed a place Pips & Bounce where they continue to re-live their childhood and help others have just as fun.




The Founders of Pips & Bounce Ping Pong
Eugene Jung has worked in top tech and corporate firms specializing in marketing and business development in New York City.  Michael Jung was working in Portland before they quit their respective jobs to start Pips & Bounce. It is a casual mid-century chic place. Offering various recreational opportunities.
 The story behind Pips & Bounce Ping Pong
Eugene and Michael lived miles apart from one another, missing all the fun they had during their childhood playing ping pong. Eugene who lived in New York City had a few opportunities to get together with his friends and play ping pong. But Michael who lived in Portland had no such opportunity. Hence, Michael one day in March of 2012 decided to organize a pop-up ping pong party, inviting 40 of his Facebook friends. 200 people showed up and most of them requested another event.
The events were further held monthly and hey called these events "Pips & Bounce." One of these events was held by the brothers at the corner of Northwest 13th Avenue and Everett Street. This turned quite a few heads.
The rapid development of Pips & Bounce Ping Pong
After a year of such Ping Pong Pop-Ups. The Jung brothers decided it was time to take things to the next stage. Eugene moved to Portland and the brothers searched for an appropriate location. They decided upon a space in historic grand central building. In July 2014, they initiated a Kickstarter campaign raising $51,059 from 138 backers. Their intent behind all this was quite clear, to establish a retro-basement-rec-room-chic-ping-pong-lounge.
Health Benefits of playing Ping-Pong!
Turns out there are quite a few benefits of playing ping pong. An article published on July 15th, 2019 in Augusta Free Press (Virginia) listed 11 benefits of playing ping pong. Some of them include improvement of hand/eye coordination, increasing stimulation and balance. Ping-pong is also used as a therapy to enhance the abilities of dementia patients.
 What all does Pips & Bounce Ping Pong Offer?
Ping- Pong Tables are available for rent o half an hour basis. There are various kinds of memberships to suit customer's needs. There is also a separate recreation room that can be rented for various events. Comfort food and Crafted cocktails are available with monthly trivia nights. The Jung brothers are all set to open another such center in Minneapolis.
Pips & Bounce Ping Pong Website!
They have a fabulous website where all the schedules are updated.
https://www.pipsandbounce.com/about
Pips & Bounce Ping Pong on the Shark Tank
Can the Jung brothers convince the Shark Judges that being an adult does not have to be all that boring? The episode is going to air on 28th February.