Genius juice is to be featured on Shark Tank Episode 12 of Season 11. Let us find out a bit more about the Genius Juice and its founder Alex Bayer.




The founder of Genius Juice
  Alex Bayer, the founder of Genius Juice graduated from California Polytechnic State University-San Luis Obispo in marketing and graphic communication. In the initial years, Alex worked as Account Executive and Director for marketing. He has also created a community project, "karaoke for cure," which raises money for children's hospitals. It has now become a full-fledged 501(c)(3) corporation.
In January 2014, Alex founded Genius Juice, Genius has brought innovation to the market, it happens to be the world's first all organic smoothie. Now there are countless coconut smoothies available in the market so what sets it apart of the rest? It is the fact that it offers whole coconut smoothies with both the coconut water and coconut meat.
This is genius!
While working for an insurance company and going through all the insurance claims, Alex was appalled by the general decline in the health of Americans and he decided that he did not want to become a part of it, which in turn led him to turn into "health nut." He began to blend smoothies and stock them up to silence the call of fast food. He and his health-conscious friends shared smoothie recipes and that is how he came across his first organic coconut smoothie, made only from two ingredients coconut water and coconut meat, it was so good that he exclaimed, "This is genius!" and bingo!
The Genius Juice Variants
After doing a lot of research and experimenting with many types of coconuts, Alex found that the Young Thai coconut with its sweet unique taste, found in Ratchaburi in Western Thailand to be perfect.
Once the coconuts are harvested, they are sent to a manufacturing facility two miles away, thus the coconuts go from tree to bottle in 5 or 6 hours and hence the freshness which is evident in its every sip.
At present, Genius Juice offers 3 flavors, they are:
The original
Mocha
Turmeric.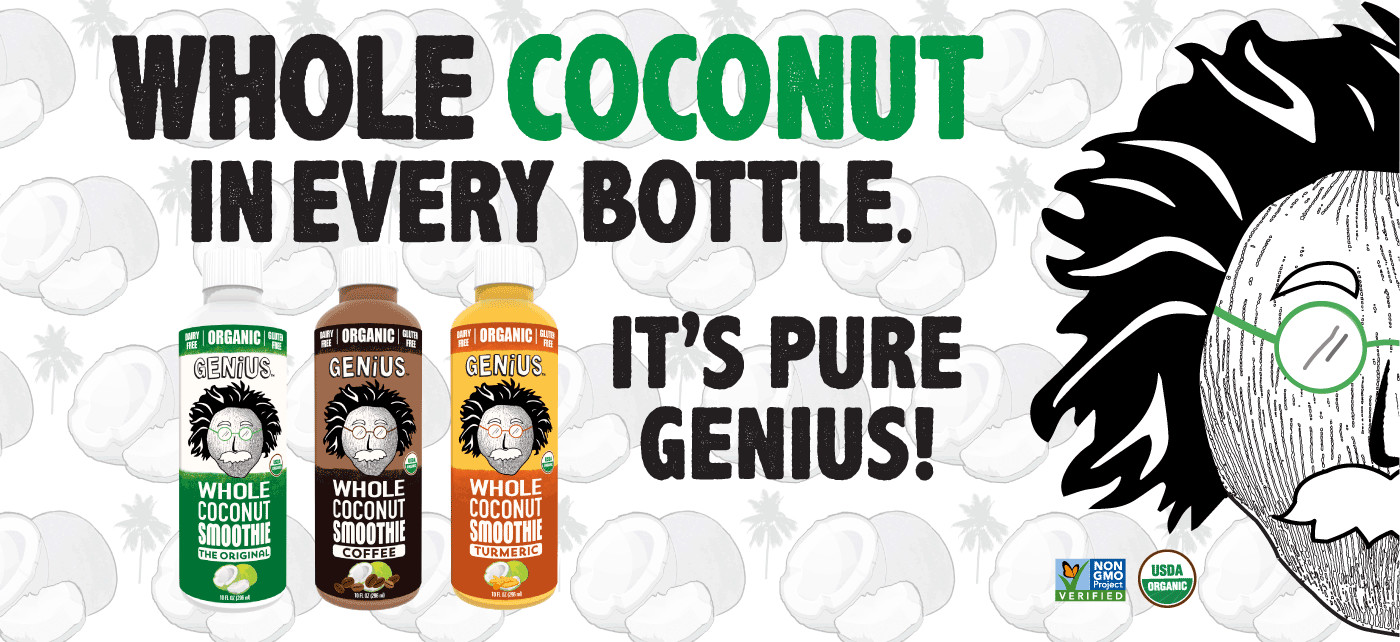 Zero Wate Policy of The Genius Juice
                                  One more special thing about Genius Juice is that it follows a policy of zero waste.
Husk is donated to processing centers and converted to alternative/renewable energy to power local cities in Thailand, furthermore, they are also converted activated coconut charcoal that is used in detoxification products.
Partially recycled materials are used in the shipping of juice which can further be recycled.
The Genius Juice availability and product range
  The Genius Juice has won BevNET's "Best smoothie or meal replacement beverage" and it is sold in upscale supermarkets such as Whole Foods or another store such as Blair Farms.
usually, it is sold in a pack of 6 costing $49.99.
Did The Genius Juice Get A Shark Tank Deal?
                                     The episode on Genius Juice will air on Shark Tank this Sunday, January 19th. It remains to be seen if Alex can convince the panel of five sharks that the company is worthy of a shark investment. Stay tuned for more info.