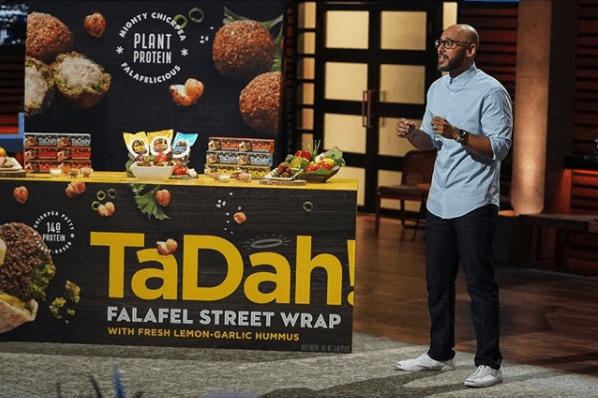 Tadah Falafel Street Wraps is one of the products to be featured on Shark Tank Season 11 Episode 1. The story behind the birth of Tadah Foods is pretty interesting. Yes Tadah Falafel wrap is vegan. Here are some of the unknown facts about Tadah Falafel Wraps and its founder John Sorial




Who is the Founder of Tadah Foods?
John Sorial is the founder of Tadah Foods. John Sorial hails from an immigrant family who predominantly worked in restaurants and food services industry. He was passionate in working in the kitchen and learnt that food can be a delight to everyone.
John Sorial is a chemical engineer from Johns Hopkins University and worked with AOL as a marketing manager. Sorial was pretty impressive at his work and in spite of that, he felt something was missing in his professional life.
The actual entrepreneurial awakening took life when Sorial was offered a transfer to India. John was reluctant to move his base with his family for a job which he was not very passionate about. Hence, John took the plunge with Tadah Foods.
The Story of Tadah Foods 
The mission of John Sorial was to make food in the same way his parents did at a restaurant. Before a make or break meeting, John Sorial made a falafel wrap instinctively which went on to become his primary product at Tadah Foods.
Sorial founded a small company named 'Tadah Foods' which exhibited its wraps in Specialty Food Association's "Fancy Food Show." The products earned a positive review on "In Show".

The first retail outlet of Tadah Wraps came up in Roots Market in Maryland in April, 2011. The second outlet came up in Whole Foods stores in June. Over the next few years, Sorial participated in several food shows across the country.
In May of 2013, Tadah Foods came up with a new product called 'Falafel Poppers'.
"I was never driven by money" – John Sorial , Founder – Tadah Foods.
Tadah Foods Product Range
Tadah donates over 25% of their profits to organizations working for social change. The Tadah Falafel Wraps come in the following flavors:Sweet-Spicy Harissa & Lebni, Feta Green Pepper Salsa, and Spicy Brown Sugar Harissa Hummus. The Falafel Poppers come in Cucumber Dill, Lemony Roasted Garlic Hummus, and Harissa Hummus.hey can be ordered through the website, Amazon or purchased at retail stores such as Wegmans, Kroger and Whole Foods.
"The problem is our grandmothers don't ship nationwide," he said
Did Tadah Falafel Wraps Get A Shark Tank Deal?
How did Tadah Falafel Wraps fare in Shark Tank Season 11? What did the Sharks have to tell about it? Did Tadah Foods Get a Deal on Shark Tank? More information to be updated soon in this post.
Tadah Falafel wrap nutrition
Tadah Falafel wrap cooking instructions
Microwave and oven cooking times may vary please use these instructions as guidelines. Microwave: remove outer plastic film and loosely wrap in a paper towel. Heat for 1 minute then flip over and heat for an additional 45 seconds. Your wrap will be hot so now would be a good time to let it cool out for a minute or two. Enjoy. Oven: preheat oven to 350 degrees. Remove outer plastic film and wrap your hand held deliciousness in foil. Heat your wrap for 40-55 minutes. Caution your food will be hot so don't burn yourself, because that would ruin an otherwise delicious meal. For thawed wraps: Microwave 20-30 seconds per side. Oven 10-20 minutes.
Tadah Falafel Wrap Review
The wrap was really good. In a quick minute and forty five seconds, it's ready to eat! I prefer quickly heated items when I take lunch to work. The best part? They're 100% all natural, vegan, and the tortilla is non-gmo. At $3.99 each, they're a bit pricey, but it was more than enough for my meal and I actually couldn't finish it all in one sitting. There was only one true con for me and that was the sodium count – it was a bit higher than I like, but it didn't reflect a lot in the taste. If you're looking for a quick lunch option, definitely check these out!