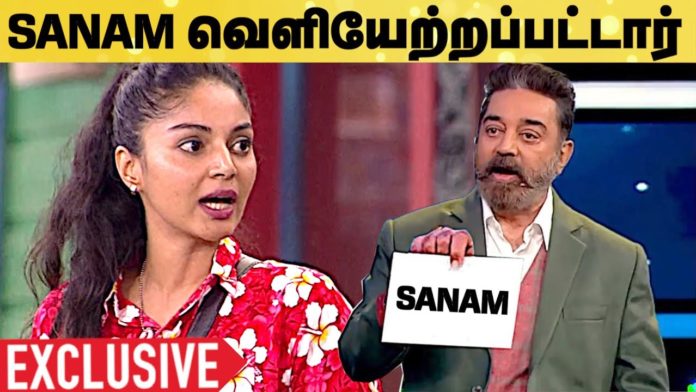 Bigg Boss Tamil season 4 has made past sixty days, and things are getting crowded out there with only a few contestants evicted so far in this season. Also, there is not much controversy or anything going on inside Bigg Boss house, and hence fans are looking forward to some stirrups to keep things interesting.
This week, the contestants nominated for eviction were Sanam Shetty, Anitha Sampath, Aari, Ramya Pandian, Shivani Narayanan, Aajeedh, and Nisha. While it was observed that many of the contestants had got the least votes, Anitha, Sanam, and Shivani were the three contestants who ended in the danger zone.
#Sanam Evicted#biggbosstamil #Biggbosstamil4 pic.twitter.com/d0o3amMHZe

— Imadh (@MSimath) December 5, 2020

Now it's confirmed from credible sources that Sanam Shetty has secured the least percentage of votes and got eliminated this week from Bigg Boss 4. It has been said that despite her performance in tasks, her petty fights with housemates and her repeated arguments have to lead to her downfall.
Bit Sanam's fans and netizens are shocked by this elimination; they're wondering how fewer content providers like Shivani, Aajeedh, and Gabriella are in the house while a strong player like Sanam is evicted.
Here are some of the tweets:
Reposting this because this is Sanam. This is her. She did that gracefully. Kadaisille Vijay Tv yemathiritchu le? 💔 #BiggBossTamil4 #Sanam#nosanamnobiggboss pic.twitter.com/fFYIl0WuJr

— BB Troll (@SaltyAssB) December 5, 2020
My favorite is gone 💔
Inime 9.30 – 10.30 Netflix la edhadhu series paka vendidhu dhan.
Bye bye BiggBoringBoss!#Sanam #BiggBossTamil #bigbosstamil4 #BiggBossTamil4 #Aari #Nisha #BalajiMurugaDass pic.twitter.com/83wfxoKf3G

— Humming Bird (@roseNmyrhh) December 5, 2020
True!
If a woman is loud in her opinions, people call her names like bajari, venom and what not.

But if it's a man, it's gethu, attitude n nonsense.#Sanam you are the queen! Be the same bold, genuine n kind person you are.#BiggBossTamil4 https://t.co/6csRWoEzNs

— Lavanya S Ishwaran (@lavanya15) December 5, 2020
Bigboss 4 in one sentence: Men with strong personalities will be celebrated while Women with strong personalities can't succeed..💔💔💔#SanamShetty #Sanam #BiggBossTamil #BiggBossTami4 #BiggBoss4Tamil #BigBoss4Tamil #BiggBoss #Aari #BalajiMurugaDass #BalajiMurugaDoss pic.twitter.com/TqWl50HPhA

— N A R E S H (@NameisNareshh) December 5, 2020
I haven't been watching bb for 5 days now. This is the best time for Sanam to come out. She played well. Having said that there's really no reason to watch bb anymore as useless mixtures are getting saved for doing nothing. Bye #Sanam good luck to you ❤️ #BiggBossTamil4

— gowriesankara (@vegangirl39) December 5, 2020