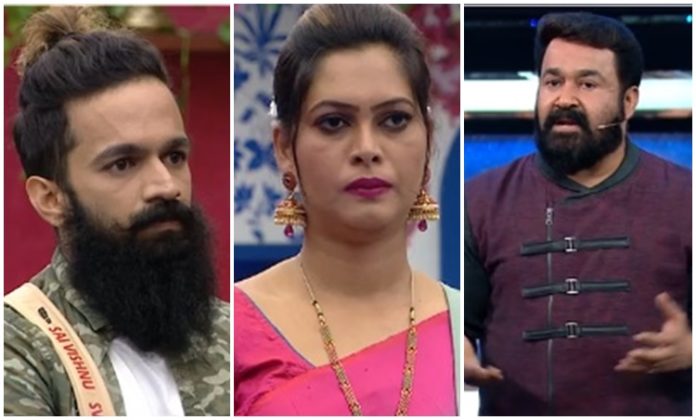 Bigg Boss Malayalam 3 enters its ninth week on Monday. The weekend episodes did not feature Mohanlal's discussions with the housemates. As a result, no eviction took place in the 8th week. This comes in as a fresh respite for the nominated contestants, especially the ones in danger like Sandhya and Sai Vishnu.
Also Read:Bigg Boss Malayalam 3 Elimination: Sajna and Firoz Evicted This Week as the Seventh Elimination of BBM3
The episode on Monday will feature a ranking task for the 9th-week in Bigg Boss Malayalam 3. With no evictions taking place in the previous week, a possibility of double eviction looms large. The eighth-week episodes of Bigg Boss Malayalam 3 were marred by drama, fights, and arguments towards the end. However, this will have an impact on the subsequent nominations task.
An obvious choice of nominations this week will be Sajna and Firoz. With the drama in the dishwashing team unfolding, Dimple will return to the nominations list next week. Dimple and Kidilam Firoz's argument will see housemates taking sides about the incident. Captain Manikuttan seemed nonindulgent in certain issues which could land him in the nominations as well.
The ninth week will feature some major incidents in the Bigg Boss house. There are a lot of scars and dents left by the incidents of this week. At least, five or six contestants will face the danger of eviction as a result of the repurcusions.